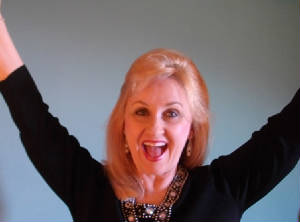 We'll have such fun!
FREE Show Choir for K4 through Grade 2, Weekly Rehearsals Begin Tuesday, August 23rd 4:45 to 5:30 This is one of Rita's ways of giving back to the Community. "The Little Voices" gives our precious little tykes the opportunity to learn the fun of quality music, as well as the discipline of singing together as a group. We will do a variety of music with choreography, costumes and drama. We will perform some special Christmas music as well as some fun, upbeat music in jeans and t-shirts. This is a non-audition Choir. Membership will be limited, so make your reservation now. Call, Text or Email. 334-546-7216 The requirements for this Choir are the agreement to be on time and the agreement to no unexcused absences. The only cost will be the purchase of your t-shirt. There will be a recital at the end of the School Year.

Myra Arrington, Mother of Private Voice and Show Choir Student
Dear Rita, thank you for the tremendous amount of help you gave Haley. I feel you have helped Haley accomplish her goal of being able to stand in front of other whether it is at her church singing or speaking in her class at school. Thanks for bringing a child that was too shy to stand up in her class and read a line, to a child that could compete and entertain in front of an audience of more than 500 people at a State and International level. Sincerely, Myra
Tanya, Director, Big Oak Ranch,Springville, AL
Rita, Thank you so much for all you do with our girls. My heart just swells with pride when I hear them sing. You have so much charisma; it is always a joy and a blessing to hear you perform. Thank you again for the light you bring to Big Oak!
Mark and Donna King, Houseparents, Big Oak Girl's Ranch
Music, in its many facets, lends us to a beauty that transforms into personalities of soothing comfort, peace, joy, sometimes pain and discomfort. In our children's lives, music has been a ministry. A ministry of hope, security, love and just having a great time cultivating their talents. Rita Allen has a unique way of teaching music so that her students are eager to learn and appreciate this lovely form of art.
Tim and Sharon Kisor, Parents of Private Voice & Show Choir Student
We would like to thank Rita Allen for all the time, encouragement, guidance and confidence she has given to Laura over the last few years. Laura started out with a dream of singing and performing. Rita brought her out of her shell and she blossomed more and more each year. She is now confident in performing and has the desire to go as far as she can go. Rita has instilled in her the dedication and hard work that it takes to become the best she can be. Laura now has a direction and goal that she is out to achieve and we will always be thankful to Rita Allen for her time, direction and excellence in guiding Laura down a path that will bring her a lifetime of enjoyment.
Anita Gardner, HouseMom at Big Oak Girl's Ranch
Rita, you do bring sunshine to others! Even when you are down or not feeling well, you never let it show. You are such an inspiration to me! You have become my mentor. Thank you for being so patient with me.

Charlie Gargus, Father of Show Choir Student
I thought I would take a minute just to drop you a line and say thanks...It takes a special person to gain the respect and admiration that kids bestow on you. That respect and admiration can't be "created." Kids see us all the way we truly are. Elizabeth sees you as someone very special. I am sure you reach those "trying" days just as we all do. When they hit just, know you have a lot of prayers and thoughts of thanksgiving from more people than you know.
Cindy Tate, Mother of Private Voice & Show Choir Student
Rita, These past five years of training have greatly improved and refined Nikki's vocal ability. With your help we plan to apply for scholarships. Your ability and availability to share your God-given talent will go beyond your personal life through these students and bless millions across America. Respectfully, Cindy
Ellen and Phillip Cochran, Parents of Choir Student
Etowah Live has been just wonderful! I am so thankful that Rita has had the vision to offer this show choir for the students in Etowah County. Cara has really enjoyed singing with the choir and has learned many different kinds of music…I appreciate the heart and soul Rita puts into practices and performances. Her positive attitude is reflected in these students. I know this choir has had an amazing impact on Cara's life. How many students can say they have sung at Carnegie Hall? Thank you, Rita, for leaving positive footprints in Cara's life!
Mary Kampfer, Mother of a Choir Student
Life is what you make it, and you make it lovely!
Lamar and Shelia Quinn, Parents of Voice Student
The six years we have known Rita Allen have been great! Rita, you constantly try to get everyone to give it all they've got and never, never quit. The road to success is paved by wonderful people like you who continually strive to make a better person out of each young person. Fun makes working and living worthwhile. Fun makes you the kind of person our children want to be around. Thanks for being Rita Allen!
Gene Johnson, Principle, Southside High School, Southside, AL
I could never list the accomplishments and positive influence that Mrs. Allen has had with the students, faculty, and administration at the school...the results sing for themselves!