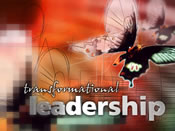 Business Workshop on Leadership

There is a growing understanding that people don't leave organizations; they leave leaders. The success of organizations is directly dependent upon the quality of leaders in place. The number one reason someone stays with an organization, even one that is failing, is because of good leaders. The number one reason someone leaves an organization, even a very successful one, is because of bad leaders. I know this is true; I have been there. "Leaders who aren't getting the desired results, aren't truly leading." They may be great people, they may be kind and caring, they may be stalwarts in the industry, they may be very knowledgeable, but if they are not getting the desired results, they are not truly leading. Let me tell you why this is so tricky in today's world. Leaders that were great leaders five years ago may be completely immobilized today. Why? Because our world is vastly different today than it was just five years ago. One small example is that leaders today who won't recognize that social media highly affects the new business model of today will suffer. All their years of education, experience and savvy could be worth little IF they are not willing to grow with the flow. Then again, business leaders who maybe were not extremely successful in years gone by, but who have made social media the crux of their business, will soar.

The power has shifted from the seller to the buyer!! What a rude awakening for some leaders! So, leader, if you are not getting the desired results, especially if your turnover is unusually high, you have only one option.....roll up your shirt sleeves, go to where your employees are, become a collaborative leader, build trust and new vision in your employees, seek out their insight, form master mind groups, form teams, move out the old and move in the new, and watch your organization come to life so quickly that you better be prepared! EVERYONE wants to know that they matter, that they make a difference. When you, as a leader, genuinely give someone that place (and they will know if you are fake) you fulfill them; they, in turn, will fulfill their place in the business. ~Rita
Apply for Participation - $100 per monthly meeting - Maximum 6 members
Rita has a Masters Degree in The Science of Management (Leadership) from Troy State University, and has worked in the field of Leadership for 30+ years.