Some testimonials from some former students at a large High School...
Mrs. Allen, this has been the best semester of my life! I've really enjoyed acting in "Julie" and "Stella Divine." Those memories will be some of the best of my teenage years. Even though this semester has been tough in many ways, it has also been very rewarding. I have had a chance to form friendships, act in several different roles, make lasting memories, and just have a great time. Your classes have meant so much to me these past two years. Thank you for coming to SHS. You've made it worthwhile for myself and many others to look forward to going to school, or performing. It's been great. Your friend, Brandon Ford
Through being in Choir and Drama, I have met some interesting people. I have learned so much from Mrs. Allen, not only about choir and drama, but about life. I have learned that for anything to work in life, you must remain faithful to people and to God. David Teel
Mrs. Allen, I just wanted to start off by saying that you're an awesome teacher. I have really enjoyed being in your class. You are the best teacher I have had and I thank you for making my 1st Drama experience great! I hope your summer is full of joy and great things. I can't wait to see what next year has in store for the Drama Team. You're an awesome person. See you next year!!! Tara
Mrs. Allen, I have had a wonderful time in Drama this year. You have taught me a lot. Though it seemed as if I wasn't listening, I was. My most favorite time was when Pam, Jerrha, and I could make everyone laugh. Being in Drama made me really think about thing more, and appreciate the thing that I do. Thank you for all that you have done for me this semester. Love, Leann Hunter
This year has been great! Mrs. Allen has been a light for me! She is such an inspirational person. Thank you to the people who were in my Drama Class! Thank you, Mrs. Allen, for allowing Drama to exist! Never forget, Drama Rules! Samantha Sykes
Mrs. Allen, I love you and I love Drama! Thank you for helping me decide what I really want to be more than anything! Love, Krissy
This time spent in Drama will be forever embedded in my heart! It has been the "sardines in my sandwich, the mayonnaise in my potato salad, the little blue thing that smells nice in my toilet bowl!" (from Stella Divine J) Tiffany Smith
Mrs. Allen, Though I was only in Drama for about three or four weeks, I've had the best time of my life! When I first got changed into your class, I really didn't expect to do anything because it was so late in the year. Then, just like that, I was asked to be "Sam – Stella's long, lost love in the play Stella Devine." My response was, "Sure, what could it hurt." Two days before the play I was a bit nervous because I didn't know my lines. So I got a bunch of people to help me memorize it. Then I was set. I know I was more energetic and more nerve-racking than anyone else but I don't think anybody cared. So, Mrs. Allen, what I'm trying to say is that I had so much fun in Drama, making new friends, helping people out, and most of all…..being in your class. Kenny Purvis
Rita Young Allen Teaching Credentials.....
Master of Science in Management Leadership (Healthcare Administration)
Master of Arts in Liberal Studies (Counseling, Emergency Management, Public Administration)
Executive Director & Marketing Director for two National Healthcare Corporations
Bachelor of Science in Sociology, Minor in Music Education
Associate of Arts in Vocal Performance
Music School Owner for 24 years
Performed at Carnegie Hall with Private Choirs, 6 years
Church Music Minister, 30+ years
Published Author, "The Sheaf Dreamer"
Columnist, 20+ years
President of Alabama National Speakers Association, 3 years
Public & Private School Teacher, 10 years (Choral & Drama)
Pageantry, Top Ten, National Competition of Ms. Senior America & Alabama State Director

Click here!>>>Pure CBD Oil Health Coach...living Pain Free!
Rita Young Allen, Keynote Speaking Professional / Concert Soloist / Published Author / Emcee
Master of Arts in Liberal Studies (Concentration in Counseling) from Jacksonville State University.
Master of Science in Management Leadership (Healthcare Administration) from Troy University.
Bachelor of Science in Sociology, Minor in Music, from Jacksonville State University.

Associate of Science in Music Education, Vocal Performance

Snead State College, Gadsden State College, and Wallace State College.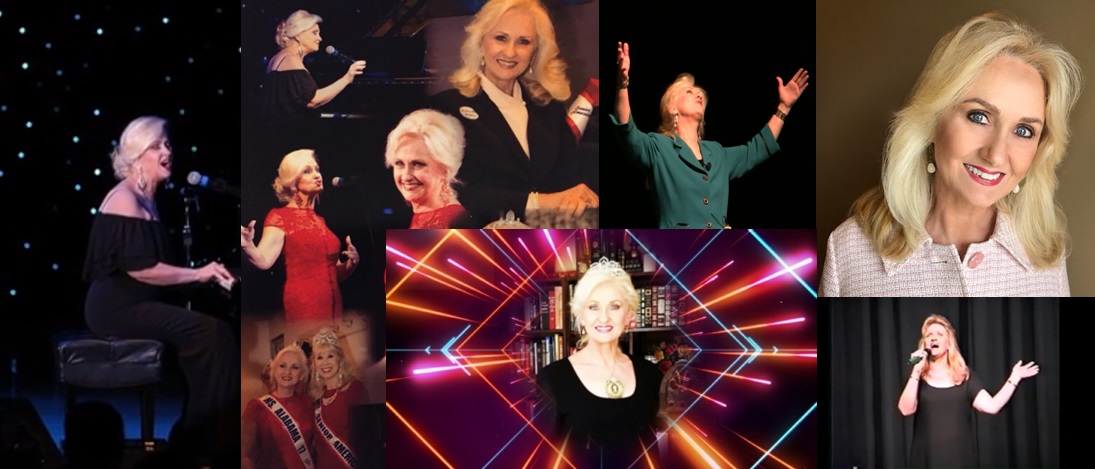 Copyright 2022 Rita Young Allen, Rya Associates, All Rights Reserved. Information from this site may be reprinted or quoted by members of the media, provided a specific credit be given to Rita Young Allen.