How do you get to Carnegie Hall?
Practice, Practice, Practice!!
"The Young Voices" performing in Carnegie Hall!!
Carnegie Hall, The Lion King, Les Mis, Phantom of the Opera, Titanic, Little Women, Fiddler on the Roof, Statue of Liberty, Ground Zero, Planet Hollywood, Hard Rock Cafe, Regis and Kelly, China Town....just to name a few (and not nearly all!) of the wonderful sights we fell in love with on our trips to New York! I took students each spring to sing with a mass Youth Chorale and mass Children's Chorale. They meet other honor students from all over the United States while performing on the stage of one of the top five performance halls in the world! This thrill is not matched by many things in the life of a student! The lives of the students, as well as the adults will never be the same. These students had the exciting opportunity to see why New York is called "the city that never sleeps!" The days preceding the finale performance at Carnegie Hall were filled with rehearsals, shopping, touring, subways, open-top big red buses, street vendors, street performers, and the infamous yellow cabs!

Here's just a few of the songs they performed:
Music, Spread Thy Voice Around, G. F. Handel
Jordan's Angels, Rollo Dilworth
Nobody Knows The Trouble I've Seen, Ruth Elaine Schram
Brothers, Sisters Join Hands, Earlene Rentz
Sing for Joy, Alleluia!, Sally K. Albrecht
Little Liza, Folksong arranged by Ken Berg

The life of a young person is formed by the experiences they encounter. It is our responsibility, as adults, to guide our young people in a direction that will include quality experiences that will be of benefit not only in the present, but for a lifetime! I am constantly hearing from students and their families who share with me how still fresh in their mind is the experience of singing at Carnegie Hall. This experience is so different than performing solo. This experience gives you a feeling of unity with mankind. It also gives you a sense of discipline in that you are not only learning the songs for our studio, but also for a presentation of wholeness for students from the entire US! As young people arrive from California, Florida, Washington to Texas, there is a sense of "coming together." Each year, my students make friends from all over the country that will last a lifetime. The main component I love about these chorales is that there are no big "I's" and little "you's." Everyone is the same. Everyone matters equally; no matter what religion or race. This is definitely a very positive experience in the life of a child and I am most honored to have a part in each of their lives.
Heather Steward, Private Voice & Show Choir Student

Mrs. Allen, Over the past three years that I have been taking voice lessons from you, I have learned so much and now have such a love for music. You always believed in me, even when I would forget to practice my songs. You brought the best out of me and are one of the main reasons I have so many wonderful opportunities in music. When I was in "Etowah Live!" I made friends that I will never forget and I even got to sing at Carnegie Hall! It would have never have been possible without you. Before I came to your studio, the thought of being on Broadway or getting accepted to my dream college had never crossed my mind. But with your patience, encouragement and, most importantly faith, that dream doesn't seem out of the question. I am forever grateful to you, and I hope that God blesses you in all the things you do.
Rita Young Allen Teaching Credentials.....
Master of Science in Management Leadership (Healthcare Administration)
Master of Arts in Liberal Studies (Counseling, Emergency Management, Public Administration)
Executive Director & Marketing Director for two National Healthcare Corporations
Bachelor of Science in Sociology, Minor in Music Education
Associate of Arts in Vocal Performance
Music School Owner for 24 years
Performed at Carnegie Hall with Private Choirs, 6 years
Church Music Minister, 30+ years
Published Author, "The Sheaf Dreamer"
Columnist, 20+ years
President of Alabama National Speakers Association, 3 years
Public & Private School Teacher, 10 years (Choral & Drama)
Pageantry, Top Ten, National Competition of Ms. Senior America & Alabama State Director

Click here!>>>Pure CBD Oil Health Coach...living Pain Free!
Rita Young Allen, Keynote Speaking Professional / Concert Soloist / Published Author / Emcee
Master of Arts in Liberal Studies (Concentration in Counseling) from Jacksonville State University.
Master of Science in Management Leadership (Healthcare Administration) from Troy University.
Bachelor of Science in Sociology, Minor in Music, from Jacksonville State University.

Associate of Science in Music Education, Vocal Performance

Snead State College, Gadsden State College, and Wallace State College.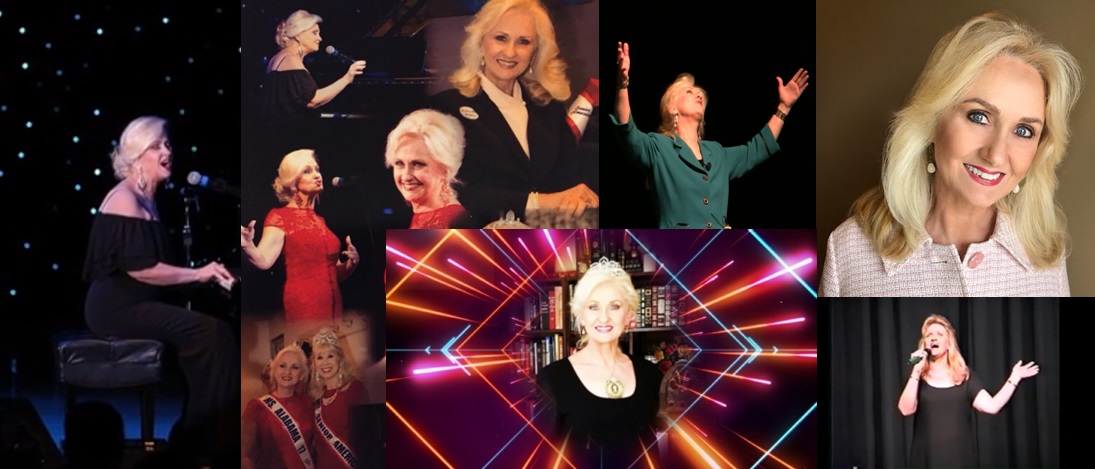 Copyright 2022 Rita Young Allen, Rya Associates, All Rights Reserved. Information from this site may be reprinted or quoted by members of the media, provided a specific credit be given to Rita Young Allen.