Rita Young Allen Speaker Demo Video
Jan Bang, Owner, Boundless Results and Professional Training & Coaching Consultant
Rita is an incredibly, talented, and consummate professional! Her gift of singing and worship is amazing and her love of people, leadership, and business and ministry experience is vast and expansive. I highly recommend Rita to any church setting, ministry, association, or business!! Her voice is one of the most beautiful gifts out there!!!
Jolene Brown CSP, CPAE, Professional Speaker for Agriculture and Family Business Consultant
With grace and glory, Rita's presense and voice filled the room. As chills of an amazing experience raced through me, I knew I was witnessing a master at work. It is her giving spiritand her gift of music that reaches all generations. The National Speakers Association was honored to have her work featured in the Opening of our 2010 Convention
Dana Cordell, Business Service Representative at Gadsden Career Center
I have known Rita for many years and I would like to recommend her as a wonderful leader, magnificent teacher, loyal and faithful worker and one of the most anointed women of God that I have ever had the pleasure of knowing. She is detail oriented and dedicated to any task set before her. She is always up for a challenge and will meet or exceed any expectations. Her encouraging spirit causes all those around her to want to be better.
Melanie Ginn, Assistant Manager Policy Administration at Millennium Risk Management
Rita and I have worked together over the last ten years. Rita is always faithful to give more than one hundred percent of her very energetic self to anything she puts her hand to, and in doing so is enormously blessed. Rita has such a desire that God shine through in all that she does and says, and the results are always incredible!
Donna Williamson, RN at Gadsden City School System
I first met Rita in the early-mid 90s when I became one of her many voice students. Rita is a fine Christian lady who gives 150% of herself to whatever she is doing. She is a wonderful person, singer, director, professional @ every thing she does, & good friend.
In Nov. 2002 I joined her choir (David's Army) to help me cope with the tragic death of my 38 year old son. This proved to be the best therapy for me. Rita & all the choir members loved me, prayed for me, & encouraged me until finally I could laugh once more. David's Army & Rita Allen were God's angels that loved me back to health again.
Thanks Rita for letting God use you whereever you work.
Rita Young Allen Teaching Credentials.....
Master of Science in Management Leadership (Healthcare Administration)
Master of Arts in Liberal Studies (Counseling, Emergency Management, Public Administration)
Executive Director & Marketing Director for two National Healthcare Corporations
Bachelor of Science in Sociology, Minor in Music Education
Associate of Arts in Vocal Performance
Music School Owner for 24 years
Performed at Carnegie Hall with Private Choirs, 6 years
Church Music Minister, 30+ years
Published Author, "The Sheaf Dreamer"
Columnist, 20+ years
President of Alabama National Speakers Association, 3 years
Public & Private School Teacher, 10 years (Choral & Drama)
Pageantry, Top Ten, National Competition of Ms. Senior America & Alabama State Director

Click here!>>>Pure CBD Oil Health Coach...living Pain Free!
Rita Young Allen, Keynote Speaking Professional / Concert Soloist / Published Author / Emcee
Master of Arts in Liberal Studies (Concentration in Counseling) from Jacksonville State University.
Master of Science in Management Leadership (Healthcare Administration) from Troy University.
Bachelor of Science in Sociology, Minor in Music, from Jacksonville State University.

Associate of Science in Music Education, Vocal Performance

Snead State College, Gadsden State College, and Wallace State College.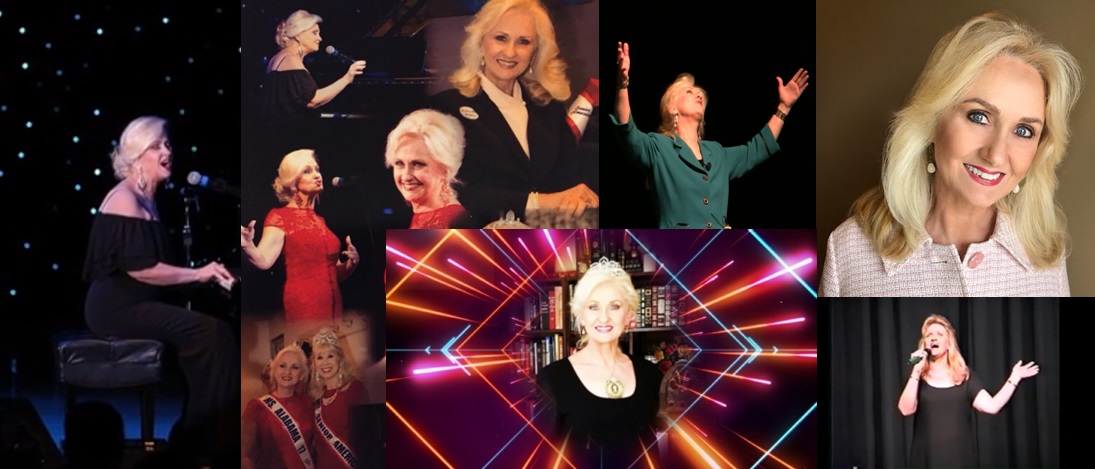 Copyright 2022 Rita Young Allen, Rya Associates, All Rights Reserved. Information from this site may be reprinted or quoted by members of the media, provided a specific credit be given to Rita Young Allen.