Hello, Erin,
This is a private web page, not published. It can only be read if you give someone the link. You will never know how much you blessed me by working with me until I came up with a system that would work for my computer/tv. You went way above the call of duty and I am very grateful. Your kind and generous spirit spoke volumes to me about the kind of person you are. I want to share with you a little about myself.
Until 2006, I had a music studio for 24 years, had great success in the industry, took choirs to Carnegie Hall, and sent many students off to college with scholarships. In 2006 I needed a change in life. I closed down my music studio and moved to Birmingham, heading off on a great adventure! I dabbled in numerous things and did tons of research on various subjects. Finished a 2nd Masters Degree (except for 2 classes) built a large online presence, became President of the National Speakers Association of Alabama, but had not found what I wanted to do for the rest of my life until recently. I have been on stage my entire life, speaking and singing, and I love it, but I had asked for something that I could literally pour myself into for the rest of my life, something that others could take hold of and it would change their lives forever. I prayed for something that would render me not only financial stability, but financial freedom. And I also asked for something that would promote a lifestyle of health and wellness as I endeavor to live my life to its fullest until my last day. I had experienced almost every facet of entrepreneurship so I was wide open.
I had a friend who had been trying to introduce me to ViSalus for quite some time. After my friend contacted me again a few weeks back and told me that she would like to pay my way to convention, I decided to go, so as to truly get a feel for the industry. Oh, my goodness, I cannot begin to tell you what I experienced. I listened to stories of people on the verge of being homeless, who were now making thousands a month. I heard stories of families reunited as a result of financial pressures relieved. I watched as, one by one, they gave away $6.25 million in just bonuses at this convention (it's on my FB page). They gave away 1,800 BMW's just in the last 30 days to those who qualified. I heard stories about individuals working very hard in other home based businesses and earning only a percentage of what they earn now. I also heard stories of high blood pressure, type 2 diabetes and thyroid problems diminishing. I saw where equivalent supplement sales were given to shelters, inner city children and the homeless by ViSalus. I could not believe the magnitude of seed sowing going on! I marveled at a community of people wholly dedicated to helping each other and the world. The world is so tired of greed. We have reached a point that now it is just as important to make a difference as it is to make money, if not more important!
Although there are other products, the main emphasis of this company is weight loss and nutrient/energy. It is predicted that by 2030 over half of America will be obese…frightening statistic! My state, Alabama, is #1 in the nation for obesity, therefore, this is at the center of my heart. The 90 Day Challenge is on a mission to rid America of unwanted weight and give people their lives back, one person at a time. Their business model is VERY simple, but powerful. You drink two shakes (that taste like cake mix milkshakes, 100's of recipes) for two meals a day and then eat one normal meal…nothing to count, nothing to measure. The main reason that this company is growing like wildfire is because if you have three of your friends to buy the shakes, yours is free and will be free as long as you stay with the company. In turn, if any of them get three friends to buy, then theirs is free. There is no big presentation, no charts, no complicated business plan. The whole plan is summed up in these 6 words – "three for free…stars and cars!" I watched as people told about losing up to 200 pounds, while helping their friends, and making money…and driving a BMW! There were people of all classes and all walks of life on the stage of the Georgia Dome with 10,000 in the audience. There was a young man there who had lost 124 lbs. on his 90 Day Challenge and now has his life back! The video is on my Facebook page. I knew then that this company had found the quintessential combination…cohesive culture, fearless leaders, delicious products, strategic business plan and soul stirring mission.
I have hit the ground running…I intend to lose all my unnecessary pounds, make money, pay off all my bills, buy that place in the country I have wanted for years, help other people get healthy…and all I have to do is socialize and have fun!
If you have interest to talk with me about this, let me know.Perhaps you don't need the money and you are very happy with your health status, but maybe you know someone who needs a lift in this difficult economy. My friend, Susan, started in June of this year. She makes about $4,000 a month and has already earned her BMW. It's work, but it's fun work…and it's the kind of work that we like to do best, talk and party!
I hope to hear from you!!
Blessings to you, Erin, and thanks again for your kindness.
Click here to see if you are up for the Challenge!!
Are you sick and tired of being sick and tired?
Would you like to feel good and energetic again?
Would you like to lose some weight?
Would you like to gain some lean muscle?
Do you know that Alabama is #1 in the entire nation for obesity?
Cancer and Diabetes are at epidemic proportions.
Do you have good friends who are your biggest cheerleaders?
Do you have a tremendous support community?
Are you living your passion?
Do you LOVE getting up every day?
Or do you live for breaks, lunch, 5:00, weekends and vacations?
Do you need more money,
not only for the holidays, but for life as well?
Do you want to make a difference,
instead of just make money?
I can show you how.
Life is too short to let your days slip through your fingers!
Make each day count!
For the 90-Day Challenge and new hope,
Life, Health, Prosperity, Community




Rita Young Allen Teaching Credentials.....
Master of Science in Management Leadership (Healthcare Administration)
Master of Arts in Liberal Studies (Counseling, Emergency Management, Public Administration)
Executive Director & Marketing Director for two National Healthcare Corporations
Bachelor of Science in Sociology, Minor in Music Education
Associate of Arts in Vocal Performance
Music School Owner for 24 years
Performed at Carnegie Hall with Private Choirs, 6 years
Church Music Minister, 30+ years
Published Author, "The Sheaf Dreamer"
Columnist, 20+ years
President of Alabama National Speakers Association, 3 years
Public & Private School Teacher, 10 years (Choral & Drama)
Pageantry, Top Ten, National Competition of Ms. Senior America & Alabama State Director

Rita Young Allen, Keynote Speaking Professional / Concert Soloist / Published Author / Emcee
Pure CBD Oil Health Coach...living Pain Free!
Master of Arts in Liberal Studies (Concentration in Counseling) from Jacksonville State University.
Master of Science in Management Leadership (Healthcare Administration) from Troy University.
Bachelor of Science in Sociology, Minor in Music, from Jacksonville State University.

Associate of Science in Music Education, Vocal Performance

Snead State College, Gadsden State College, and Wallace State College.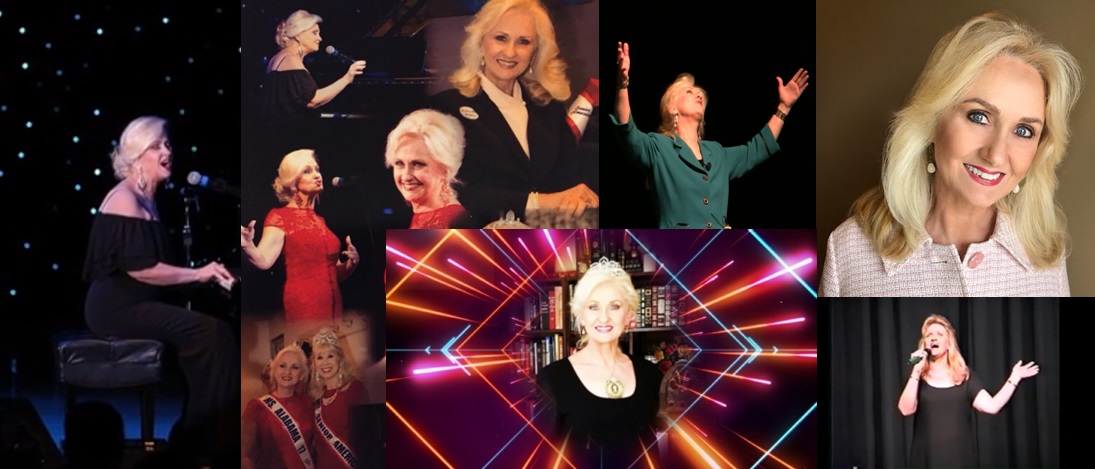 Copyright 2020 Rita Young Allen, Rya Associates, All Rights Reserved. Information from this site may be reprinted or quoted by members of the media, provided a specific credit be given to Rita Young Allen.