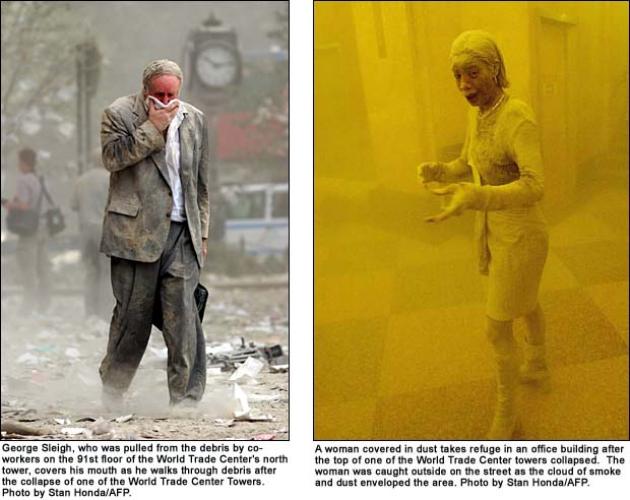 Thanks so much, Gadsden Times.....
My Messenger Article.....

Dear Friends,

What great encouragement in the human heart I have received while working on this event! When I accepted the responsibility of making this event work, I asked God to bring in the people and supplies that I needed to create one of the most dynamic performances Gadsden has ever witnessed! I truly believe that is happening! I could ask this with a pure heart because no one is making money off this event. All my work is free of charge and there is no admission to the performance. I have had people calling me asking what they could do to help, along with others who have said they want to pay for certain things. Just about everything is secured for the event and everything up to this point has been paid for or sponsored. I am so excited and thankful! The City of Gadsden has donated the use of the Amphitheatre and Convention Hall in case of inclement weather. The Messenger Newspaper and the Gadsden Times has given us free advertisement. Thank's to Cindy Nelson and Deirdre Coakley for their kind words in feature articles. Melanie Ginn is sponsoring the printing of the programs. Sentell and Betty Killingsworth have purchased the candles for the evening. Oden Piano is bringing us a GRAND piano for the evening's performance! Kyuka Water is bringing in water for the rehearsal. Comcast Cable is filming the event for viewing on Channel 5! Not only did WJBY and WGAD do live interviews about the event, but they are running spots continuously from now until the event, free of charge! I have a Lighting and Sound Technician, Joseph Hallmark. Ball Electronics is aiding him in the lighting and set-up of the big screen for the evening. Churches are bringing their choirs! The Adult Mass Choir is over 200; the Children's Mass Choir is about 50….and people are still calling to participate!

Thank you so much to you Music Ministers who passed this information on to your members. You will be blessed.

A very special thank you to all of David's Army who have worked tirelessly. What wonderful people you are! As I said, because people are still calling, I will publish a list of sponsors after the event. I want to be sure that everyone knows of the generosity of the people of Gadsden! Just in case any church did not receive their letter, please log on to www.RitaAllen.com and you will find a copy of the letter in full on the link, "Remembering 9/11." You are still welcome to join us in song.

The Mass Choirs are still open and any singer may join, individual or choir. Please just give me a call or email to let me know you are coming. For those who have it, I would like the Mass Choirs to wear any combination of Red, White, Blue and Black for the evening. I know not everyone will have these colors to wear and that is fine. I just want to present a generality of these colors, so if you have them, wear them. What color you wear is not nearly as important as your voice!

For those of you who can reach the Throne of Grace with your prayers, please pray for the event. I would love to think that everything will go on without a hitch, but I have lived too long and performed too many times to think that! Not that it can't happen; it's just not the norm! Pray that God will bless our efforts and our evening. Whatever the evening holds, we are going to have a great time! After all is said and done, the heart and emotion are what make a successful performance….and we will certainly have that!

On September 11, 2001, Congress united our nation by singing, "God Bless America" while standing on the front steps of the Capitol Building. That act said many things: "unite, heal, remember, look to the future, hope, find strength, don't be afraid, and endure." We will do the same thing on Saturday, September 11, at at the Gadsden Amphitheatre. Throughout the history of the world, music has held a very powerful position. Amidst the ever looming possibility of terrorist attack, we must establish a confident, peaceful existence. Nothing would be more wonderful than for the stage of the Amphitheatre to be filled with singers raising one voice together in the heart of our fair city!....a very witness to those who would like to take that privilege away!
Thanks so much, Messenger.....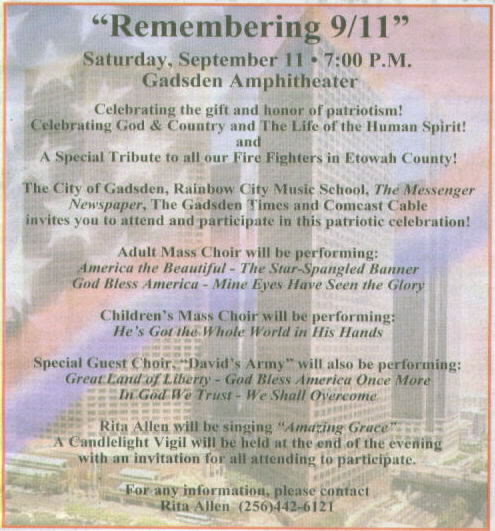 Rita Young Allen Teaching Credentials.....
Master of Science in Management Leadership (Healthcare Administration)
Master of Arts in Liberal Studies (Counseling, Emergency Management, Public Administration)
Executive Director & Marketing Director for two National Healthcare Corporations
Bachelor of Science in Sociology, Minor in Music Education
Associate of Arts in Vocal Performance
Music School Owner for 24 years
Performed at Carnegie Hall with Private Choirs, 6 years
Church Music Minister, 30+ years
Published Author, "The Sheaf Dreamer"
Columnist, 20+ years
President of Alabama National Speakers Association, 3 years
Public & Private School Teacher, 10 years (Choral & Drama)
Pageantry, Top Ten, National Competition of Ms. Senior America & Alabama State Director

Click here!>>>Pure CBD Oil Health Coach...living Pain Free!
Rita Young Allen, Keynote Speaking Professional / Concert Soloist / Published Author / Emcee
Master of Arts in Liberal Studies (Concentration in Counseling) from Jacksonville State University.
Master of Science in Management Leadership (Healthcare Administration) from Troy University.
Bachelor of Science in Sociology, Minor in Music, from Jacksonville State University.

Associate of Science in Music Education, Vocal Performance

Snead State College, Gadsden State College, and Wallace State College.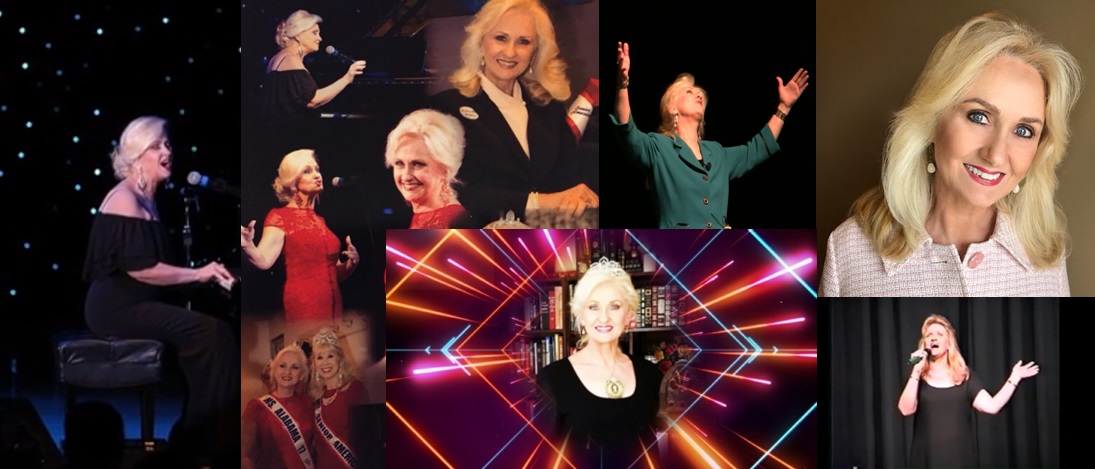 Copyright 2022 Rita Young Allen, Rya Associates, All Rights Reserved. Information from this site may be reprinted or quoted by members of the media, provided a specific credit be given to Rita Young Allen.