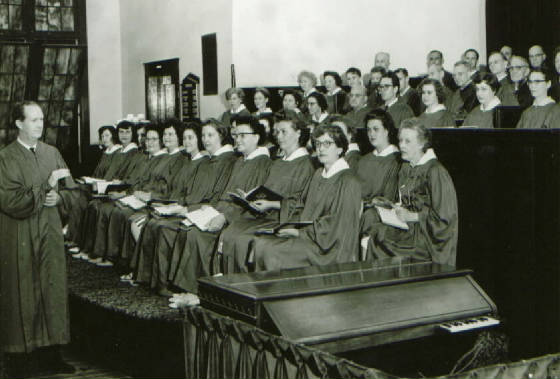 Chaplain B. W. Allen and the Bryce Hospital Choir
During the time Mr. Allen was chaplain at Bryce, he took the choir to sing for varied functions all over the state of Alabama. The following is a letter he sent to his oldest daughter describing one of the choir trips!
(original handwritten letter below)
Hi Lady!
We were really glad to get the pictures. It brought you a little nearer. I'm enclosing one of Becky which was made in school this year. I think it is really good.
I suppose that the rest of the family have given you most of the loose news; so I will have to think of something else.
I took the choir on a long juant last Sunday. We left the hospital at 5:30 a.m. Mother and I prepared their breakfast. Orange juice, a ham sandwich, coffee and two donuts. We had this on the Greyhound bus on the way. We had a bus with rest room. We sang at Loxley at 11:00 a.m., had lunch with them, went to Gulf Shores and saw the ocean (this was something new for most of them). Sang at Foley Methodist at 3:00 p.m. (Theo and Joyce were there). Sang at Bay Minette at 7:00 p.m., supper at 5:30. (Big day indeed!) Took in $487.00. I was bushed on Monday, but am feeling fine now. We're (the choir) are getting more and more in demand.
I'm preaching each Sunday at a beautiful little church about 20 miles toward Jasper (Piney Woods). It is actually a mission, but I feel that we will be able to help a lot there.
You would be so proud of Philip. He is doing such good work in school. The things he makes in crafts are unusually good. He is still a food bag!
I think Mother is better than usual physically.
I'll send the Bible soon. We love you, are proud of you and are always praying for His best toward you. Give our love to your room-mate and co-worker.
I love you, Daddy
Bryce Hospital for the Insane
Tuscaloosa, Alabama
Peter Bryce (1834-1892) laid the groundwork for the care of the mentally ill in Alabama, not by the mere holding of a position, but by his own sensitive, patient nature and by the inauguration of treatment methods that mark him as a pioneer in psychiatry.
Bryce, a native of South Carolina, was elected superintendent of the newly created, not yet completed, Alabama Insane Hospital in 1860, when he was only 26 years old. He gave the remaining 32 years of his life to the hospital that now bears his name. The idea of "moral treatment" of the insane, discarding the use of shackles, jackets and other medical restraints was 70 years old but still virtually unknown in this country when the first person was admitted by Bryce in 1861. The young physician enforced strict discipline among his attendants, requiring nothing short of absolute courtesy, kindness and respect toward the patients. This conscientious nursing bore fruit in the form of warm relationships and by 1882 a policy of absolute non-restraint could be initiated. Bryce set up programs of work - farming, sewing, maintenance - and of amusement for his patients; programs valuable both as therapy and as a means of making ends meet. The very survival of the hospital during its early years, when the state's interest and finances were directed to other needs, must be listed as one of the superintendent's greatest accomplishments.
Bryce created a mental institution recognized as one of the best managed in the country. An understatement, but nonetheless true, is Bryce's own assessment, written just before his death: "I feel that I have done my work, and hope, without selfpraise, to be permitted to say I have done it well."
- from the Alabama Hall of Fame, 1968, "ASC Archives"
Also see "Intructions on Bringing a Patient to the Hospital"
freepages.history.rootsweb.com/~byram/asylums/bryce_al/
This facility is located in Tuscaloosa adjacent to the University of Alabama. It is the state's oldest and largest inpatient psychiatric facility. The hospital currently has 464 beds, but at the time the famous Waytt litigation began it held more than 2,000 patients. It serves a variety of patients in residential treatment and rehabilitation programs. Services include programs for acute care, rehabilitation, Medicaid certified adolescent inpatient care (40 beds) and extended care.
Female Forensic inpatients from the northern 2/3 of the state are housed and treated at this hospital.
In addition, Bryce operates two Medicaid certified intermediate care facilities, providing an additional 354 beds for persons with serious mental illness. All programs and facilities meet the requirements for accreditation by JCAHO, as well as by Medicare and Medicaid. The Harper Geriatric Hospital, which opened during 1995, is physically located on the Bryce campus. It has more than 100 Geriatric Beds.
bama.ua.edu/~jhooper/bryce.html
Rita Young Allen Teaching Credentials.....
Master of Science in Management Leadership (Healthcare Administration)
Master of Arts in Liberal Studies (Counseling, Emergency Management, Public Administration)
Executive Director & Marketing Director for two National Healthcare Corporations
Bachelor of Science in Sociology, Minor in Music Education
Associate of Arts in Vocal Performance
Music School Owner for 24 years
Performed at Carnegie Hall with Private Choirs, 6 years
Church Music Minister, 30+ years
Published Author, "The Sheaf Dreamer"
Columnist, 20+ years
President of Alabama National Speakers Association, 3 years
Public & Private School Teacher, 10 years (Choral & Drama)
Pageantry, Top Ten, National Competition of Ms. Senior America & Alabama State Director

Click here!>>>Pure CBD Oil Health Coach...living Pain Free!
Rita Young Allen, Keynote Speaking Professional / Concert Soloist / Published Author / Emcee
Master of Arts in Liberal Studies (Concentration in Counseling) from Jacksonville State University.
Master of Science in Management Leadership (Healthcare Administration) from Troy University.
Bachelor of Science in Sociology, Minor in Music, from Jacksonville State University.

Associate of Science in Music Education, Vocal Performance

Snead State College, Gadsden State College, and Wallace State College.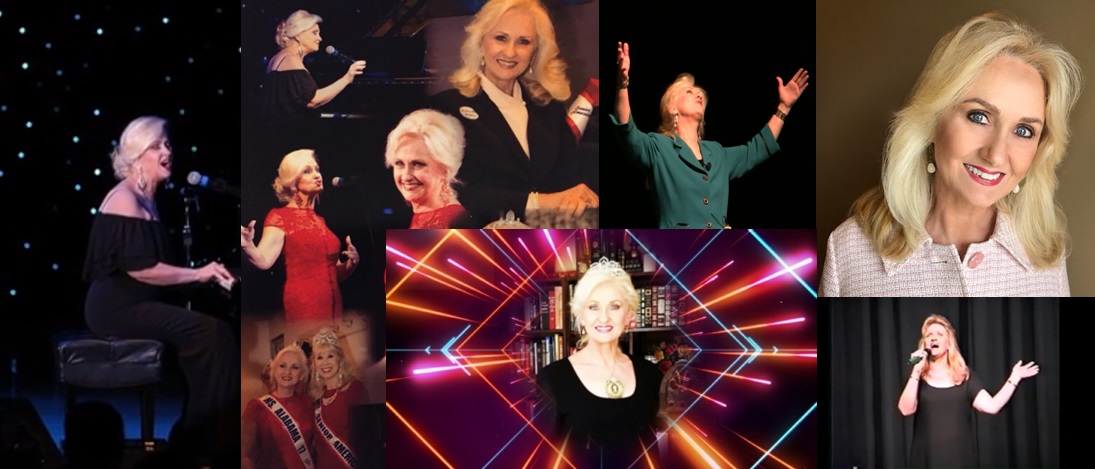 Copyright 2022 Rita Young Allen, Rya Associates, All Rights Reserved. Information from this site may be reprinted or quoted by members of the media, provided a specific credit be given to Rita Young Allen.