A Couple of our Newsletters.....
NEWSLETTER

Dear Friends,

Hello, and I hope this finds you doing well. Our gospel choir has grown by leaps and bounds over the last few months and I decided to share a newsletter with our members, future members and friends of members. God is really moving in us and for us in a wonderful way. He is blessing us in song, people and spirit that is even beyond our own expectations! Each Thursday night, our time of rehearsal and fellowship brings fresh new water to cleanse our souls. I have been in many circles of people in my life but I have never been so closely knit with a group of people who seem to have no trouble reaching God. You remember in Acts where it shares that the people seemed to move about in a "spirit of awe?" That's us. We pray and watch God answer. We sing and watch God stir the hearts of listeners. We eat and fellowship together, and watch God break bread with us also. We laugh together and watch God cleanse our hearts with the Water of Life. We cry together and watch God sooth our wounds with the Oil of the Holy Spirit, the Balm of Gilead. I have never been more excited about the anticipation of where the Lord is leading as I am about David's Army! I am going to share some of our member comments with you and also a little about who we are and why we call ourselves "David's Army." Anyone is invited to join, but if you can't see your way clear to sing with us at this time, please pray for us. Come one night, and just watch and listen. We would love to have you.
Melanie Ginn

God's Word tells us that David's Army was composed of a group of people whom it seems life had treated harshly. Their very leader was being pursued for his life. Yet they came together by the divine appointment of God and He blessed their every action. So it is with "David's Army!"
We come together as a people dealing with every trial that life can hand us - death, raising children, divorce, financial trials; yet we come by divine appointment. We come together to minister to hurting people, and God heals our hurts. We come from different financial backgrounds, age levels, racial backgrounds, and even different countries, but we worship as one. There are no barriers and no differences between us. We are simply all God's children, and we are blessed to be a part of David's Army. We come to meet, empty, and we go home full. Such is the grace of God. He truly has been good to allow me to be a part of this ministry.
Johnnie Hallmark

"David's Army" has meant so much to me. It is such a ministry, not only to others, but to each other in the choir. This choir is definitely appointed by God and I have made some wonderful friends. I feel so blessed to be a part of this choir.
Debora Carter

Being a part of "David's Army" is a blessing to me and my family. The fellowship we share each week at practice is great. We all come from different walks of life, but when we come together in the Name of Jesus, we are all one. The desire of the choir is to help others see Jesus no matter what you they might be going through.
Dianette Keener

What a spiritual blessing I have received! I always look forward to Thursday afternoon practice. If I have had a rough day, I know by the time our practice is over, burdens will be lifted from me.

I truly enjoyed being there Thursday night and I am looking forward to being back this Thursday! I felt the spirit of God and it is His anointing that breaks the yokes. "I can do all things through Christ who strengthens me."

I am so excited about tomorrow night. I know that God will bless us. I am in hopes that this could be my way of carrying God's message. I know that whatever it takes, I will serve the Lord!

Last Thursday night's practice was amazing! I went to the office Friday before leaving for Atlanta and I was floating. The trip to Atlanta was great! God is doing a work in my life.

Many people live their lifetime without experiencing the deep peace and tremendous rewards of having true friends....the kind you know you could call anytime, day or night, and they would be there whatever the circumstance. When the Holy Spirit moves upon the heart of an individual creating this kind of love, nothing can hinder it! This is the kind of love and compassion we feel every Thursday night when we come together to sing. I pray for each of you that God will bless you abundantly above all you can ask or think! Much love, Rita
How we found our Name....

David knew the power of God...........

"So it came about whenever the evil spirit from God came to Saul, David would take the harp and play it with his hand and Saul would be refreshed and be well, and the evil spirit would depart from him."

1 Samuel 16:23
He knew that it really didn't matter how big or how experienced the giant was. The only thing that really mattered was how fully David trusted in God's power!

Then Saul said to David, "You are not able to go against this Philistine to fight with him; for you are but a youth while he has been a warrior from his youth."

1 Samuel 17:33

"Then David said to the Philistine, 'You come to me with a sword, a spear, and a javelin, but I come to you in the name of the Lord of hosts,the God of the armies of Israel, whom you have taunted. This day the Lord will deliver you up into my hands.'"

1 Samuel 17:45 - 46
"Thus David prevailed over the Philistine with a sling and a stone, and he struck the Philistine and killed him; but there was no sword in David's hand."

1 Samuel 17:50

"And it happened as they were coming, when David returned from killing the Philistine, that the women came out of all the cities of Isreal, singing and dancing, to meet King Saul, with tambourines, with joy and with musical instruments, and the women sang as they played, and said, 'Saul has slain his thousands, and David his ten thousands.'"

1 Samuel 18:6-7

"And David spoke the words of this Song to the Lord in the day that the Lord delivered him from the hand of all his enemies and from the hand of Saul, and he said, 'The Lord is my rock and my fortress and my deliverer; My God, my rock, in whom I take refuge; my shield and the horn of my salvaiton, my stronghold and my refuge; my Savior, thou dost save me from violence. I call upon the Lord who is worth to be praised.'"

2 Samuel 22

The Bible speaks of David as a "man after God's own heart." I want so much for God to see me in that same way and I want to shine a light so bright that others will see and understand that it is "not by might, nor by power, but my My Spirit saith the Lord." (Zechariah 4:6) David's Army was not the most skilled, not the best physical stature, not the most knowledgeable, in fact this is how David's Army started out.....

"So David departed from there and escaped to the cave of Adullam; and when his brothers and all his father's household heard of it, they went down there to him. And everyone who was in distress, and everyone who was in debt, and everyone who was discontented, gathered to him; and he became captain over them. Now there were about four hundred men with him."

1 Samuel 22:1-2

"For day by day men came to David to help him, until there was a great Army of God!"......

1 Chronicles 12:22


REHEARSAL is each Thursday night from 7:00 to 9:000. Come and sing with us or just listen!

I would love to hear from you! God bless you!
NEWSLETTER

Dear Friends,
Psalms 104:33-34 says, "I will sing to the Lord as long as I live; I will sing praise to my God while I have my being. May my meditation be sweet to Him; I will be glad in the Lord." As we move about each day and have our being, many times life presents us with difficulties that squeeze out our song.
As we travel through the day, our feet get heavier and our load sometimes becomes almost unbearable. When evening finally reaches us, we are thankful for the end of a difficult day. There is a reason that when the evil spirit came upon Saul, he called for David to play on his harp.
The evil spirit was then removed. The Bible tells us that the angels sing praises to God continually around the throne without ceasing.
Music can be very powerful! This is just how powerful..."and when the priests came forth from the holy place (for all the priests who were present had sanctified themselves, without regard to divisions), and all the Levitical singers....and their sons and kinsmen, clothed in fine linen, with cymbals, harps, and lyres, standing east of the altar, and with them one hundred and twenty priests blowing trumpets in unison when the trumpeters and singers were to make themselves heard with ONE VOICE to praise and to glorify the Lord, and when they lifted up their voice accompanied by trumpets and cymbals and instruments of music
, and when they praised the Lord saying, 'He indeed is good for His lovingkindness is everlasting,' then the house, the house of the Lord, was filled with a cloud, so that the priests could not stand to minister because of the cloud, for the glory of the Lord filled the house of God." 2 Chronicles 5:11-14. The key to these scriptures is

ONE VOICE

. It is my desire as we worship in song that heaviness be lifted, hearts be mended, troubles be forgotten, depressed souls find peace, angry attitudes be calmed and restoration comes to all who need it. Each time we come together to worship in song, whether in rehearsal or performance, we forget everything but the present moment of worship.
Our worship not only touches the heart of God, but he touches ours in return. We continue to be quite blessed and amazed with what God is doing in our choir each Thursday night. He is bringing souls in from afar and close by. We sing with the annointing, and those who hear us do sense the power of God. Please come and join us any Thursday night...to sing with us, or just sit and listen. You are more than welcome.
Brenda Garner

I too, enjoy participating in David's Army. The first night I came to practice I was blessed. The Spirit moved within me. When that happens there is no holding back the tears of gladness! I look forward to every Thursday night! I am getting to know the members better and one cannot help but love every one of them. I am open to the Lord and want Him to use me to bring others to Him. I pray daily for the knowledge I need to be used by Him and the Wisdom to follow His leading.

Thank you for inviting me to come and check out David's Army. I can't wait for Thursday evening to get here for us to meet. I leave a little bit closer to the Lord. It appears that everyone in David's Army is about serving the Lord and not about themselves. I praise God for placing each member in my life. Each person has blessed my heart. I love the Lord with all my heart and it is my desire to please Him. I love music so much because it reaches down into the deepest part of my being and lifts me up. It brings me so much closer to God than anything. It is my way of worship.

At least once a week Satan gets around me and says, "Brenda, you have done it again. You have got too much going on in your life. You must give up something. Maybe you should give up music completely...come out of the Church Choir, private voice, piano and David's Army. There is no way you can possibly keep this up." This last week I got so down that Mike told me that everything negative was coming out of my mouth. Negative is not me! It never has been. As a matter of fact, I will not remain around anything negative. The bottom line is, I have felt God's calling. I love to worship Him in song. As I said earlier, I experience His Spirit more in music than any other type of worship. Satan wants to rob me of the joy that I get from it. Great news! The Anchor Holds, in spite of the storm! Last night when Eirene sang "The Anchor Holds" God reached down and touched me like He never has before. Satan might as well move on and leave me alone. I have the Anchor and He wins! Praise God!
JoAnn Jones

To be really honest in the early years of this choir I lacked the enthusiasm of what it means to truly give of myself to be a part of what is now David's Army. I had to get past, "what will everyone think of ME if I don't sing perfectly or if I begin to share something and I'm rejected." Having grown up with a lot of rejection experiences in my early years, and as an adult, it can be a tall hurdle to get over. Since I have been a part of David's Army I have gained the confidence to sing in the group, sing a solo, and share details of my life that I thought I would never share with anyone. The truly awesome thing is that every time I have had the oppoertunity to share something about myself, God has had me share something different each time. It's not a script I've memorized, it's something that God knows that I need to get out in the open so, His light can shine on it. Then, whatever it was I was holding on to is forgotten or not such an issue anymore. Being a part of this choir has been a liberating experience. I thank God for each person (friend old and new) in choir that God has brought into my life.
Rhetta Pinkston

Did I enjoy our time together tonight!! It just gets better and better! Every week coming to practice just lifts my spirits and I alwasy leave feeling more uplifted than when I came in. Thank you for gathering a group of people together and leading us into worship and praise to the Lord. Through these songs and music, we will see people set free, healed and delivered! It is just wonderful!

I can't say I am always ready for anything, but God knows I am willing. I just pray that as He opens the doors, I will move on through each one untill I fulfill the calling He has placed upon my life and walk the path He has laid out for me. "Nevertheless, Lord, not my will, but thine be done." I am looking forward to Thursday night. I am so blessed to have met you all. I was very anxious about coming the first night, you know, walking into a group of people that I do not know. I once had gotten past that uneasy feeling, but I have not been up in front of people in a long time. I know it's not about me and it is all about Jesus. Anyway, what I am saying is that it was hard to come in, but I am so glad I did. It is the annointing that breaks the yokes. Amen!
REHEARSAL is each Thursday night from 7:00 to 9:00. Come and sing with us or just listen!

I would love to hear from you! God bless you!
Rita Young Allen Teaching Credentials.....
Master of Science in Management Leadership (Healthcare Administration)
Master of Arts in Liberal Studies (Counseling, Emergency Management, Public Administration)
Executive Director & Marketing Director for two National Healthcare Corporations
Bachelor of Science in Sociology, Minor in Music Education
Associate of Arts in Vocal Performance
Music School Owner for 24 years
Performed at Carnegie Hall with Private Choirs, 6 years
Church Music Minister, 30+ years
Published Author, "The Sheaf Dreamer"
Columnist, 20+ years
President of Alabama National Speakers Association, 3 years
Public & Private School Teacher, 10 years (Choral & Drama)
Pageantry, Top Ten, National Competition of Ms. Senior America & Alabama State Director

Click here!>>>Pure CBD Oil Health Coach...living Pain Free!
Rita Young Allen, Keynote Speaking Professional / Concert Soloist / Published Author / Emcee
Master of Arts in Liberal Studies (Concentration in Counseling) from Jacksonville State University.
Master of Science in Management Leadership (Healthcare Administration) from Troy University.
Bachelor of Science in Sociology, Minor in Music, from Jacksonville State University.

Associate of Science in Music Education, Vocal Performance

Snead State College, Gadsden State College, and Wallace State College.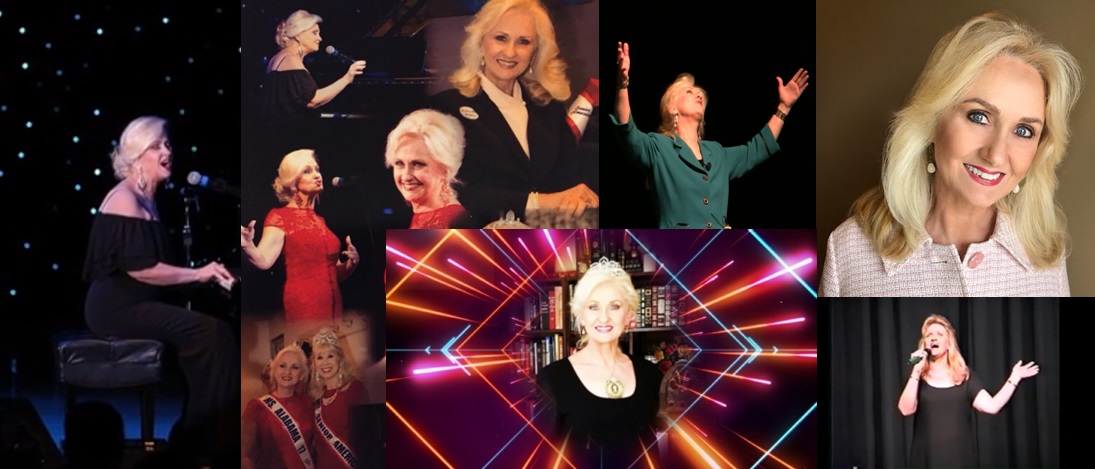 Copyright 2022 Rita Young Allen, Rya Associates, All Rights Reserved. Information from this site may be reprinted or quoted by members of the media, provided a specific credit be given to Rita Young Allen.