Celebrate Life!...You have certainly earned it!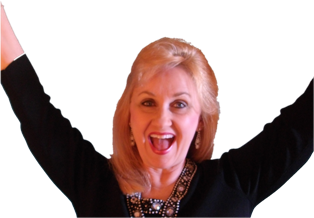 Whether you decide to retire in your own home or join the ever growing population of a Retirement Community, retirement life can be more wonderful today than you ever dreamed possible. Because of the Baby Boom Generation, there are more beautiful advantages to the retired population than ever before. Having spent the last seven years in research and employment in the Retirement Community Industry, I know first-hand, all the pros and cons, all the questions to ask and how to make a quality decision about your future.
A well-chosen Independent Living Community is a very vibrant, upbeat community of adults, ages 55 and up. They live with the same freedom and excitement they had before moving, in addition to more socialization, more security, and more health care. The "Community Connectedness" is wonderful and many have told me that they were even happier than when living in neighborhoods of years past. If you need a rest from cleaning the house, mowing the lawn and would like to improve your social interaction, your physical well-being and your emotional state of mind, you might want to consider an Independent Living Community.
I want to share a conversation I had with a very sweet lady several years ago. Her husband has been mildly ill for a couple of years, but not anything they can't manage with proper care and medication. I had talked with her numerous times about moving, with her answer being, "We're just not ready yet." During our phone conversation, she told me that he had quickly taken a drastic turn for the worse and was requiring 24-hour care. This was depleting their money at an unbelievable rate. She was exhausted and simply weary. These were her words to me, "Oh, Rita, what I would give if we had only made the move sooner. You really do think life is going to simply go on as it is and things will be o.k. Then, when life takes a turn for the worse, it's too late." She said this behind tears. She knew that if they had moved, she would still be in her apartment and her husband would be taken care of. She would have more strength and reserves to be positive for him as well as for herself.
We sure would like to think life will go on as it is, but it seldom does. The old saying, "An ounce of prevention is worth a pound of cure" is certainly true here. In probably less than two years, this couple will very quickly go through a great deal of money for the 24-hour at-home care. This is powerful when it comes to the money, but probably the most powerful benefit it provides is the psychological aspect. Consider where this lady is…she is very weak physically from taking care of her husband…she is mentally depressed because everything looks so dark in her life…she has very little outside positive encouragement from others because her relationships have almost all been shut down…she is daily seeing their money decrease…and she could lose the love of her life very soon. This last aspect is difficult enough without any of the rest.
So many folks believe..."It won't happen to me!" It may not. Some of us will certainly never see Assisted Living or Skilled Care; that's true…but what if you do?...like the lady's husband above. I truly believe in the fabulous plans that many Independent Living Communities offer. You don't want to leave your home until it is necessary, but to stay after it is dangerous or unbearably costly can bring much pain. I can help you find that point of necessary change. YOU make the decisions for your life changes; don't force your children to have to!
Don't count the days…make the days count!!
On the other side of the spectrum, I can also tell you stories from the last few years in the retirement community industry that would make your toes curl. There is much abuse in the industry, as well as much joy. Just like your health, you must take your wellbeing into your own hands. You must know the questions to ask when you begin your search for a community and you must know what the answers should be. You must know when you are being taken advantage of and how to deal with the situation. I can tell you all these things. I can fully prepare you for your community search and help you during the process.
Wyman Hamilton, ED, Galleria Woods Retirement Community

I just wanted to take a minute to thank you for all that you have done for Galleria Woods and its residents. In a very short period of time you have made a huge impact on the marketing department and our residents. Your positive attitude, work ethic and caring spirit is an example to us all. Thank you for all you do. If there is anything I can do for you, please let me know.

Calvin M. Hanson, Minister

It is somewhat difficult to fully and completely express my personal feeling regarding my recent visit to Galleria Woods last weekend. The staff was friendly, gracious and highly professional. The Friday evening musical with Rita was not only entertaining on a very high level, but incorporating the participation by residents, was special. As a retired minister, I meet scores of people regularly, and found that Rita possesses an unusually kind spirit. She has been gifted by our Creator. The accommodations were top of the line...I offer my sincere thanks and appreciation.
Sincerely, Calvin

Lynn Martin, Retirement Community Resident

You are an absolute joy and I'm so grateful for the opportunity I have to be around you. Thank you for your willing heart.

Gloria Eubank, Retirement Community Resident

I can't tell you how much we enjoyed Friday night. Bill and I had heard from everyone what a beautiful voice you had, but we were really blown away!