Regardless of your social media involvement, you MUST monitor your online presence in our new world! One viral video of bad customer service can put your business under. Consider the video below. When Dave Carrol flew United Air Lines, his Taylor guitar was broken although it was in a hard case. He appealed to them on many occasions to compensate him for the loss and they refused, therefore, he recorded the following video and uploaded it to YouTube. Within four days of the song going on line, stock price suffered a tremendous loss, dropping by 10%, costing the shareholders $180 Million. This would have bought Dave 51,000 replacement guitars! They were unwilling to respond to this viral video and they paid dearly for it. I do understand that there are those who say that United was already in trouble and that this plunge could not be totally attributed to the video...maybe not totally...but you can't deny it's influence. Even Mr. Taylor of Taylor guitars joined in saying that if the guitar was broken in a hardcase, clearly there was abuse.
With Social Media...
You must talk about more than your products and services; You must connect with the bigger picture. Do you know how?
You can't tiptoe in; worse than not be heard is being ignored. Do you know how to engage wholesome, competent social media?
2010 Social Media Marketing Strategy Mastermind Group
We will strategize how to incorporate Social Media into your present marketing plan to exponentially increase your ROI. Includes monthly assignments and email/phone consultation. Location is Allen Hall in Hayden, AL Group limit - 12.
Investment: $200 per person, per month
Rita's Specialties: Bachelor's Degree in Sociology, Master's Degree in Liberal Studies with concentrations in Public Administration, Emergency Management and Counseling. A second Master's Degree after just two more classes, in the science of Management. Ability to strategize, reach the heart and render change, individually or corporately. Actions delivered by rote will soon dissipate; actions delivered from the abundance of passion and motivation can change the world. Marketing: Grew Galleria Woods Retirement Commumity (Entry Fee CCRC) from 62.5% to over 99% occupancy in just over 2 years through speaking engagements, mass marketing (including social media) and personal connections. From 1982 to 2006, Rita enjoyed her own, very successful, performing arts school teaching private voice, public speaking, leadership, personal development, wellness, motivation, stage presence and stress/anger managment. She has trained hundreds, from ages 5 to 90, from all walks of life. Rita's company captured 35%+ of the market share for over 10 years. LifeStyle Leadership & Mastermind Facilitator. 2,000+ connections on LinkedIn.
"Rita is one in a million. You won't find anyone with a better work ethic. Positive and creative, Rita is a dedicated professional who is always trying to help others." August 3, 2009, David Sher, whOOyouknow.
Rita's Research on Organizational Marketing Ethics
Rita Young Allen Teaching Credentials.....
Master of Science in Management Leadership (Healthcare Administration)
Master of Arts in Liberal Studies (Counseling, Emergency Management, Public Administration)
Executive Director & Marketing Director for two National Healthcare Corporations
Bachelor of Science in Sociology, Minor in Music Education
Associate of Arts in Vocal Performance
Music School Owner for 24 years
Performed at Carnegie Hall with Private Choirs, 6 years
Church Music Minister, 30+ years
Published Author, "The Sheaf Dreamer"
Columnist, 20+ years
President of Alabama National Speakers Association, 3 years
Public & Private School Teacher, 10 years (Choral & Drama)
Pageantry, Top Ten, National Competition of Ms. Senior America & Alabama State Director

Click here!>>>Pure CBD Oil Health Coach...living Pain Free!
Rita Young Allen, Keynote Speaking Professional / Concert Soloist / Published Author / Emcee
Master of Arts in Liberal Studies (Concentration in Counseling) from Jacksonville State University.
Master of Science in Management Leadership (Healthcare Administration) from Troy University.
Bachelor of Science in Sociology, Minor in Music, from Jacksonville State University.

Associate of Science in Music Education, Vocal Performance

Snead State College, Gadsden State College, and Wallace State College.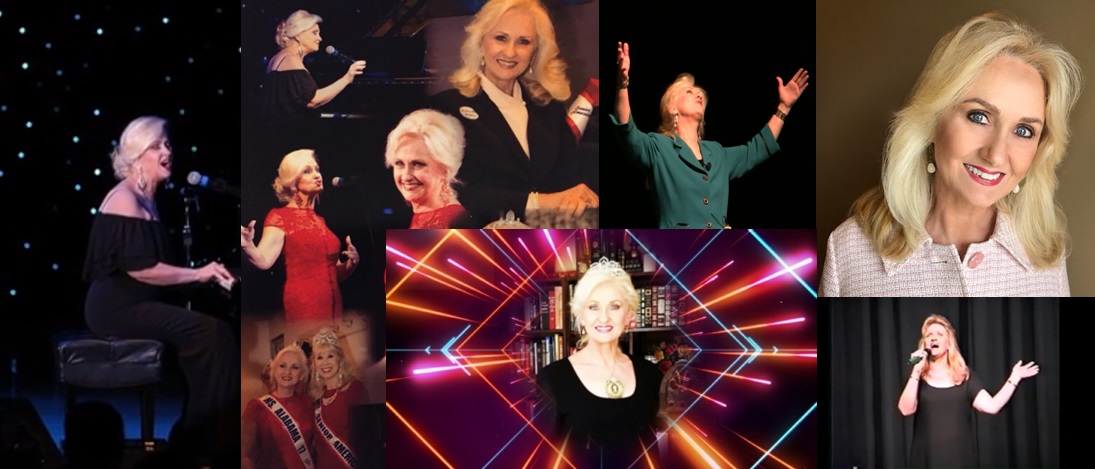 Copyright 2022 Rita Young Allen, Rya Associates, All Rights Reserved. Information from this site may be reprinted or quoted by members of the media, provided a specific credit be given to Rita Young Allen.