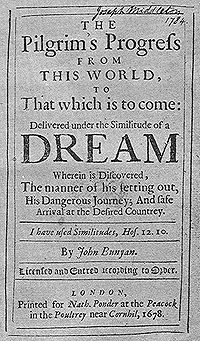 Oh, my goodness, I can't begin to tell you what "Pilgrim's Progress" has meant to my life and the life of my entire family! This book is my second favorite book in the whole world...second only to the Bible. I love reading about Christian's journey to the Celestial City because every time I read it, I discover something new. What I would give to have been a fly on the wall in that prison cell as John Bunyan set these words to paper. It was first published in February 1678 and has never been out of print since. It has been translated into more than 200 languages. You can imagine my excitement when one day I ran across an old book in an old book store entitled, "The Complete Works of John Bunyan!" I felt as if I had truly found the divine treasure chest. Not only did I now have a copy of the original Pilgrim's Progress, but a collection of John Bunyan's other great works, including his autobiography, "Grace Abounding to the Chief of Sinners." This book is a clear allegory of our journey to the Celestial City and, after studying it, you will never be the same! It will apply to every part of your life, for the rest of your life!
If you purchase a copy, be very sure to get the original language version, not an adapted version. So very much of the original meaning is lost in the adapted, updated versions.
Also, I have been very dissappointed with the videos I have seen trying to portray the book. None of them even came close, in my opinion.





Keynote Speaking Professional / Concert Soloist / Published Author
Master of Arts in Liberal Studies (Concentration in Counseling) from Jacksonville State University. Master of Science in Management Leadership (Healthcare Administration) from Troy University.
Bachelor of Science in Sociology, Minor in Music from Jacksonville State University.

Associate of Science in Music Education, Vocal Performance
with attendance to Snead State College, Gadsden State College, and Wallace State College.
Copyright 2018 Rita Young Allen, The Rya Group, All Rights Reserved. Information from this site may be reprinted or quoted by members of the media, provided a specific credit be given to Rita Young Allen Website designed by Forte Productions.