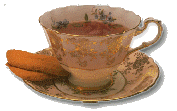 "In this hurried, sometimes indifferent world, moments of sweet fellowship are very precious. The true experience of "tea" is a joy unsurpassed. Time seems to stand still as we taste warm, homemade scones with butter and jam…sip delicious sweet tea…and create relationships that are nourishing and supportive. Tea seems to bind southern women together much like that three-corded braid…not easily broken." Tea Time can be as simple as a soothing cup of hot tea to a full Tea event with all the trimmings. I look so forward to spending time with my southern sisters and making friendships to last a lifetime." ~Rita




Afternoon Tea is nourishing to the spirit and medicine to the soul, no matter if it is alone in p.j.'s and slippers, visiting casually with a few sisters, or with a host of friends in hats and gloves!





"Each cup of tea represents an imaginary voyage." ~Catherine Douzel

"When I joined you for tea that rainy afternoon, my heart was as dreary as the sky. But cup by cup, the afternoon passed, while our conversation drove the clouds away from my heart. What's more, by the last cup of tea, my thoughts had been rearranged, leaving me space enough to breathe and light enough to see." Lucie Christopher

"Why should we live with such hurry and waste of Life?" ~Henry David Thoreau





Keynote Speaking Professional / Concert Soloist / Published Author
Master of Arts in Liberal Studies (Concentration in Counseling) from Jacksonville State University. Master of Science in Management Leadership (Healthcare Administration) from Troy University.
Bachelor of Science in Sociology, Minor in Music from Jacksonville State University.

Associate of Science in Music Education, Vocal Performance
with attendance to Snead State College, Gadsden State College, and Wallace State College.
Copyright 2018 Rita Young Allen, The Rya Group, All Rights Reserved. Information from this site may be reprinted or quoted by members of the media, provided a specific credit be given to Rita Young Allen Website designed by Forte Productions.