I come from a family of 13 children, but when I lived at home, there was only three children. The others had all married and moved away. I lived in a large seven-room house with big front and back porches.
My Father raised cattle and trucked the cattle to surrounding towns for sale. The house and barns were surrounded by many, many acres of pasture grown for cattle and the two-story barns housed many cows with young calves. The food was stored on the second floor. The hogs and piglets had seperate houses. We had dozens of roosters and hens at all times. There was always plenty of meat at our house, any and all kinds! I would help my dad load the trailer with cattle for shipping out to sell and also help with the driving to local cattle sales. We had three trucks; one pick-up and two large cabs for pulling trailers. We always went to town on Saturday's! My dad was a large man, 6'6', and weighed around 300. Most of the time a little over!
My Mom was a very organized person. She always had a clean house and didn't mind company stopping by at their choosing. There was always plenty of food on the stove, which had a closed in food warmer on top. The water reservoir was on the right side and the left side was for the fire. We stayed plenty warm in the winter as there were several fireplaces throughout the house. The fires were always arranged so there would be fire in the morning upon rising at 5:00 a.m. My petite Mom did her share of making a wonderful home for her children and husband. She made children's clothes, curtains, sheets, and pillow cases from the feed sacks the cattle feed came in. There were many floral designs, stripes and checks. I guess the feed companies knew children needed clothes! Mother had a huge summer garden where she grew all kinds of vegetables and flowers. Anything she could buy seed for, she would grow! Freezers for preserving food were not available, so Mother canned all foods. She would can around 1,000 or more cans of food each summer. We also had potato hills where all the potatoes were stored. We had an orchard too. There were apples, pears, peaches, grapevines and figs. Mother made jellies and perserves from these. Oh, my!...what work went into this! In addition to all this, Mother had a new baby about every 2 1/2 years. I did not follow in her footsteps in this respect!
Going to school was for certain!.....no way of getting out of it! First through third grade I went to a country school. I walked to school each day along with all the neighborhood children. After school we had such fun! We played in the mud puddles when it rained and I wore hand made dresses and petticoats my Mom made. We also wore hand-me-downs from the older children. I had two dresses, two petticoats, an outer coat and one pair of high top shoes for the winter. (We all went barefoot in the summer!) My most "non-favorite" item of clothing was my long, thick, brown stockings! I always rolled them down on the way to school, all the way down to my high top shoes. On the way home I would roll them back up before my Mother saw me! We always got a new pair of high top shoes one time a year, at the beginning of winter.
When I entered fourth grade, I moved to Boaz City School where I went through the sixth grade. It was VERY different from country school! When I started Jr. High School, we moved to Guntersville. I started Guntersville High School and finished the tenth grade. I couldn't start the eleventh grade because my Mother became very ill and her illness lasted for three years. I had to take care of her and do her work because there was no one else at home to do it.
My family was a multi-talented family for singing and playing musical instruments. I learned to play the piano at about eight years old. We had an old upright that a man gave my dad for meat and food for the winter one year. I ordered a "chord slide" to put at the back of the keys. I also had an instructor. When I learned one chord, I got to move on to the next. In addition to the piano, I learned to play the guitar, mandolin, bass fiddle (tall upright), and the spoons!
I started singing in church at an early age. I sang alto. I started singing with a country/western bank when I was 15 years old. My two older brothers organized and were in the same band, and they always kept a watchful eye out for their little sister. If they didn't, they got in trouble with my Dad!
We lived in Marshall County (Albertville). My brothers and I drove each morning, five days a week, to Gadsden to sing on the radio....WJBY and WGAD....off and on for four years. Every Saturday night, we also came to the Saturday Night Jamboree. I got to hear and sing with: Smiley and Kitty Wilson, Rita Faye, Chester Studdard, The Helm's Brothers, Vergie Leath, Martha Carson, Rebe & Rabe, Johnny Toner and many others! Most of these were at least 25 years older than me! My brother married one of the Happy Goodman Family Girls. We had many years of wonderful times with the Goodman's. We felt a kinship like one big family. In fact, Vestel talks about my Dad in the last book she wrote.
I got married and had two children, Rita and Terry. I was a stay-home Mother until my children graduated. As I said, I did not take after my Mother with having children! As best as we could count, she had over 120 grandchildren when she died!
In 1969 I decided it was time to go back to school and get my high school diploma. Three nights a week I drove from Boaz to Gadsden Adult School to finish High School. I didn't want to get the GED. I wanted to be involved in class room work and activities. I went to Snead State Jr. College for a while and then moved to Gadsden. A few years later, I wanted to go back to school for my college degree. Here I am back in school again! Why? Because I love school and the challenges it brings! It keeps me involved with the fast crowd (young people!) and , most important, it keeps my brain alive!
I still love singing! I still love big houses with fireplaces and lots of trees in the yard! I still love the summer and food growing time! I always have to do a few bags of vegetables for my freezer! I also have to can just a few jars of jams and jellies! I love my roots! I love to drive my car (not a pick-up and chauffeur my grandchildren where they want to go when they come to "Gammy's" house! God has given me many wonderful years and I am very thankful!
Life is still good.....God is still Great!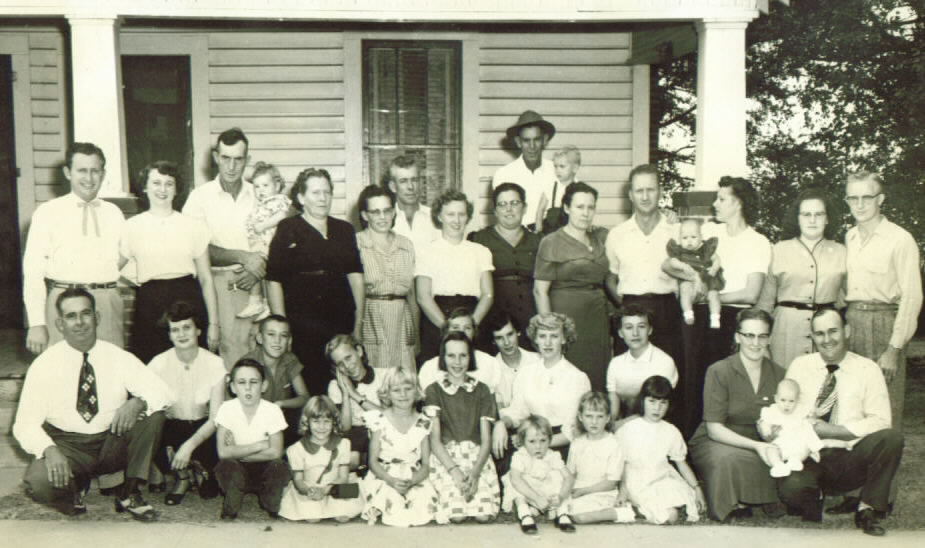 I am in the lower right hand corner with my husband and baby, Rita!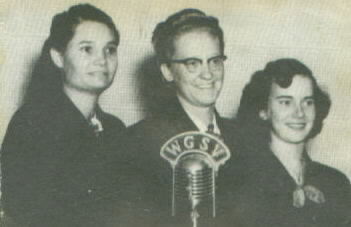 That's me in the middle!

Live, Love & Laugh!
Website created by Rita Allen