The Messenger Newspaper
At the end of one year of very hard work for Paul and two years of very hard work for his mom and dad, the effort has truly paid off.
"We began late in his sophomore year," his mom says, "knowing that we had one designated amount of time to prepare for the next four years of his life. We are an average income family, therefore, we understood what was required of us to create the opportunity not only for Paul to even go to college but especially to attend a specialty college in his field of music. Our goal for our son was to find a college for him which offered the strongest program in Vocal Performance with a concentration in Opera and Music Theatre. We made MANY phone calls, wrote many letters, prepared Paul a packet that would open any door and began our research of music colleges in the Southeast."
"In the meantime, Paul was busy learning his audition songs and writing his college essay. Twelve colleges were chosen as a starting point. We called and made arrangements for vocal auditions at these colleges. After visiting these colleges with his dad, seeing their music departments and meeting their music faculty, Paul narrowed his list down to seven colleges."
"Last year Paul had the honor of being chosen by the Gadsden Music Club to receive a scholarship to a summer music camp at Florida State University. He had a wonderful time and that week helped shape his idea of what he wanted in a college. After auditions at several colleges, Paul decided he liked the smaller campus setting, therefore, we began to zero in on the smaller, more family-type college setting without compromising the professionalism or quality of training. Of the seven colleges, Paul has been awarded $187,000 in vocal, academic and leadership scholarships. Paul has chosen Brevard College nestled in the beautiful Smoky Mountains."
"These last two years have been a tremendous amount of work. It has been worth every minute! After all our research, I decided to help other young people in the Performing Arts (vocalists, instrumentalists, dancers), therefore, I have established a scholarship service. Most of the work we did for Paul was very time consuming and many parents don't have the many hours it would take, not only for the research, but also for the preparation. The scholarships are out there; you just have to work to find them. They don't usually knock on your door!" ~Rita Allen
The remaining six schools where Paul was awarded scholarships were:
Huntingdon College, Montgomery, AL
Coker College, Hartsville, SC
Birmingham Southern, Birmingham, AL
Maryville College, Maryville, TN
Shorter College, Rome, GA
University of SC, Columbia, SC
"I am so thankful for all the work my parents did. I wouldn't have known where to start. It took so much stress out of my Senior Year and made my auditions go so smooth. There are not words to say how thankful I am." ~Paul Allen
Rita Young Allen Teaching Credentials.....
Master of Science in Management Leadership (Healthcare Administration)
Master of Arts in Liberal Studies (Counseling, Emergency Management, Public Administration)
Executive Director & Marketing Director for two National Healthcare Corporations
Bachelor of Science in Sociology, Minor in Music Education
Associate of Arts in Vocal Performance
Music School Owner for 24 years
Performed at Carnegie Hall with Private Choirs, 6 years
Church Music Minister, 30+ years
Published Author, "The Sheaf Dreamer"
Columnist, 20+ years
President of Alabama National Speakers Association, 3 years
Public & Private School Teacher, 10 years (Choral & Drama)
Pageantry, Top Ten, National Competition of Ms. Senior America & Alabama State Director

Click here!>>>Pure CBD Oil Health Coach...living Pain Free!
Rita Young Allen, Keynote Speaking Professional / Concert Soloist / Published Author / Emcee
Master of Arts in Liberal Studies (Concentration in Counseling) from Jacksonville State University.
Master of Science in Management Leadership (Healthcare Administration) from Troy University.
Bachelor of Science in Sociology, Minor in Music, from Jacksonville State University.

Associate of Science in Music Education, Vocal Performance

Snead State College, Gadsden State College, and Wallace State College.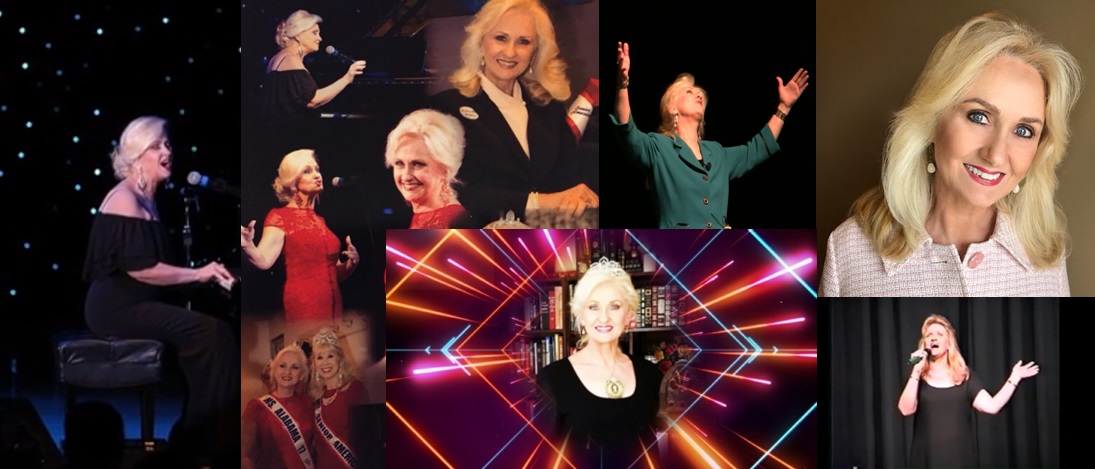 Copyright 2022 Rita Young Allen, Rya Associates, All Rights Reserved. Information from this site may be reprinted or quoted by members of the media, provided a specific credit be given to Rita Young Allen.