I cannot begin to tell you what an awesome, worship weekend we shared with Ballet Magnificat!! The ladies of Ballet Magnificat are some of the most beautiful Christian ladies I have ever met. What an honor to be included in such a creative time of worship to our Lord! It has been far more than we could have imagined! They so impressed me with their talent, skill, dedication and worship that I chose to leave this link on my website as a grand testimonial to them. They truly blessed me and many others. If you ever have the opportunity to spend and evening with them, your heart will be moved greatly. ~Rita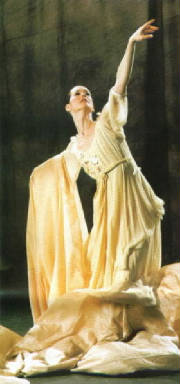 Brenda and Jim Snow, residents of Gadsden, have a daughter, Amy Snow, who is a member of a very large ballet company, "Ballet Magificat II" located in Jackson, MS. The Snow's, along with some other local sponsors are organizing another "Worship Arts Weekend." This weekend will host workshops, sharing biblical foundations for the arts. The grand finale performance will take place at Wallace Hall on Saturday evening incorporating all workshop participants into a very festive, invigorating evening. On Sunday morning, the girls will perform at local churches and on Monday morning at a local school to share their gift with students. The cost of this performance has already been paid by local citizens and we all have the opportunity to share in the pleasure of their gift. Registration is now open for all classes. Hope to see you there!
The dancers of Ballet Magnificat! often enjoy the blessing of sharing with others what the Lord has allowed them to learn through their years of training and experience. It is their prayer that each student be "stretched" physically, grow spiritually, and have a lot of fun in the process! This workshop will be "creative and improvisational worship." This class takes the dancer from the classical setting and gives instruction on how to use dance and creative talents as a worship tool. Students will explore these God-given talents in movement using improvisational techniques in both group and individual expression. This class also includes a brief lecture on the Biblical foundation of creative worship and teaches principles for the interpretation of songs, scripture, and themes through creataive movement.

The class will allow students an opportunity to ask questions about ballet in general, the ministry of Ballet Magnificat!, costuming, etc.




Ballet Magnificat II is the second touring division of Ballet Magnificat. As the demand for quality Christian arts has grown, Ballet magnificat has developed a new company to provide more opportunity for this exciting evangelistic tool. Ballet Magnificat II is composed of dancers from around the world who have recently finished extensive dance and discipleship training and long to use their gifts of dance to serve the Lord. This company has performed at schools, churches, conferences, state hospitals and prisons across the nation. Each dancer is dedicated to the art of dance, but commitment to ministry comes first. Their goal is to honor God with their talents and minster to their audiences with the passion that drives their dedication.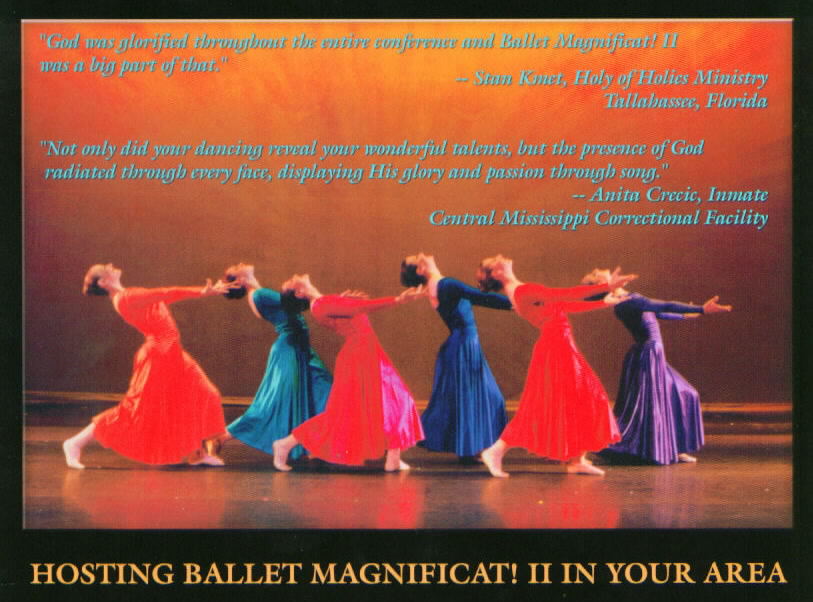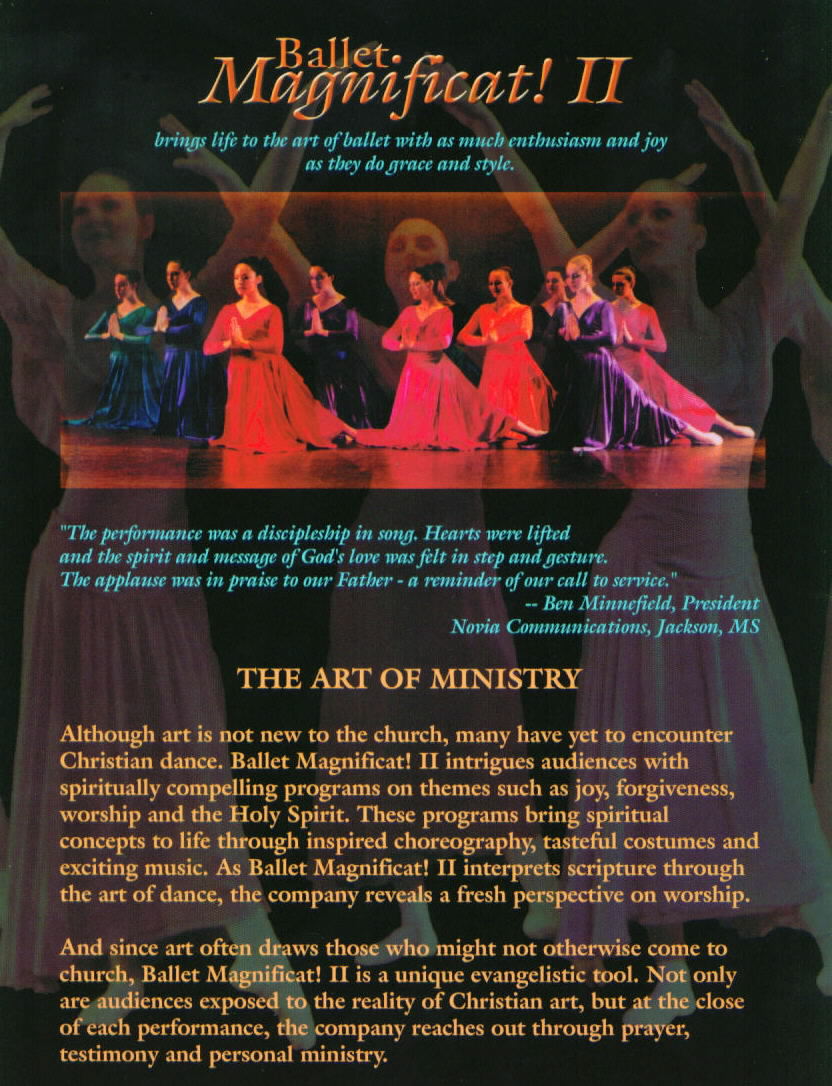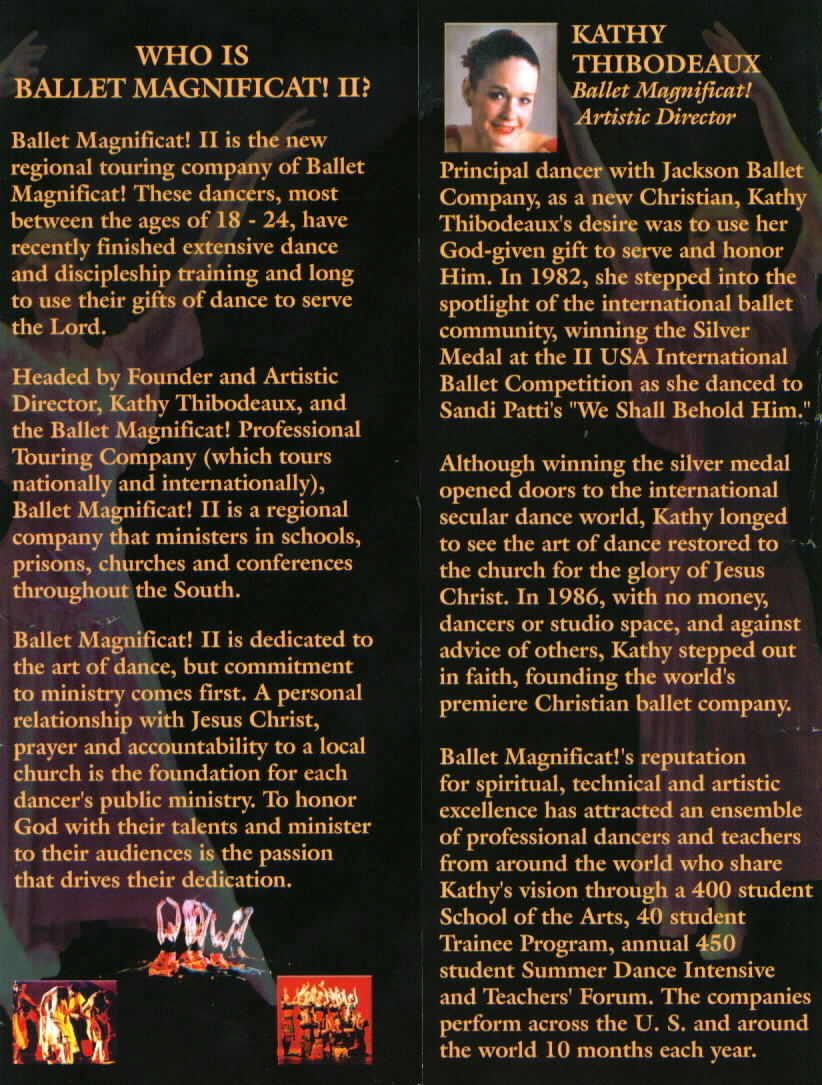 Keynote Speaking Professional / Concert Soloist / Published Author
Master of Arts in Liberal Studies (Concentration in Counseling) from Jacksonville State University. Master of Science in Management Leadership (Healthcare Administration) from Troy University.
Bachelor of Science in Sociology, Minor in Music from Jacksonville State University.

Associate of Science in Music Education, Vocal Performance
with attendance to Snead State College, Gadsden State College, and Wallace State College.
Copyright 2018 Rita Young Allen, The Rya Group, All Rights Reserved. Information from this site may be reprinted or quoted by members of the media, provided a specific credit be given to Rita Young Allen Website designed by Forte Productions.