My name is Hannah Doty. I am a graduate of St. James Catholic School and I am now a freshman at Westbrook Christian. I love music and dance. I have taken dance for 9 years, the past 4 focusing on classical ballet from Ms. Deedee Leda at the Center for Cultural Arts. I hope to someday have a career in the performing arts. If anything could describe what Show Choir has meant to me this year, I would have to say that it was a milestone in my life, in more ways than one. First of all, I am, by nature, a somewhat laid back, standoffish person and it would have ben very rare to find me auditioning for something I wasn't quite sure of. However, when I saw the Show Choir perform in the mall last year, I knew I wanted to be a part of them. To my surprise, I made it! At first I wasn't sure how I felt about some of the people and the way they did things but I quickly began to know most of them and now it's like we're one big family. Show Choir has given me the msot important opportunity of life; to go to New York and sing at Carnegie Hall. All I can say is that Show Choir has meant so much to me in the small amount of time I've been here. Being in Show Choir is a definite honor and benefit to anyone. Thank you Mrs. Rita for letting me be a part of this.

I have thoroughly enjoyed my first year in Show Choir and especially my wonderful experience singing at Carnegie Hall. I have always dreamed that I would perform at Carnegie Hall and without Mrs. Rita, I probably would not have had the chance. I enjoy singing because I love to see the facial expressions of the people you sing for. I love how they smile when they enjoy your performance. I love to make them smile and I love to make them laugh. And even the people that do not have the greatest of days, they come and tell you how appreciative they are of you. You brightened their day. That is a wonderful feeling. I am very appreciateive to Mrs. Rita and the other members of the Choir. I love you all and it has been a wonderful year! ~Megan Beam

Show Choir is a family that I love spending time with. I am excited about the fun we had last year and even more excited about next year...singing at neat places, learning new songs, not to mention London, and working with my voice. Being in Show Choir, my voice has gotten stronger and fuller. I love Show Choir and can't wait till next year. I am proud to be under your direction, Ms. Allen. God Bless, Joey Puckett

My name is Kim Patton. I'm 14 years old and in the 8th grade at Westbrook. I have learned so much through Mrs. rita and the Show Choir. I've had so many experiences in Show choir that I never imagined could happen, like Carnegie Hall and London. Thank you, Mrs. Rita, for putting up with us, and making my dream come true. I've always wanted to do Les Mis!

Hi! My name is Lizzie, and I take voice with Mrs. Rita in the "Young Voices." I love acting, but singing dominates just about everything in my life right now. I have been taking voice from Mrs. Rita for about 2 years, and I still love it! I'm in the 6th grade and I can't wait until we go to New York! There's another opportunity I wouldn't have had without Mrs. Rita. Thank you soooooooooo much!!

Ashley Smith, Private Voice and Show Choir Student

I have been taking music from Mrs. Rita for five years…I have always loved to sing and I thank you Mrs. Rita for encouraging me to dream big and set goals that are really high…It is fun to come together with kids from all over the country and know that you already have one thing in common…MUSIC! Mrs. Rita has always made music fun and that's what it's all about! Each year is a new challenge and that is something I look forward to!

Bruce and Tish Hutchinson, Parents of Show Choir Students

What has Gadsden Alive meant to my girls? Learning self confidence, stage presence, vocal skills, cooperation, commitment, dependability and responsibility; making new friends, traveling to New York while creating memories for a lifetime such as singing at Carnegie Hall…on the steps of the New York City Library…and outside St. Patrick's Cathedral; but most of all experiencing the training and influence of a talented and Godly leader. Thank you, Rita, for always listening to the girls, sharing your life experiences, and teaching the necessity of day to day dependence on the Lord while seizing every opportunity as a way to live for Him. His light does shine through you.
Rita Young Allen Teaching Credentials.....
Master of Science in Management Leadership (Healthcare Administration)
Master of Arts in Liberal Studies (Counseling, Emergency Management, Public Administration)
Executive Director & Marketing Director for two National Healthcare Corporations
Bachelor of Science in Sociology, Minor in Music Education
Associate of Arts in Vocal Performance
Music School Owner for 24 years
Performed at Carnegie Hall with Private Choirs, 6 years
Church Music Minister, 30+ years
Published Author, "The Sheaf Dreamer"
Columnist, 20+ years
President of Alabama National Speakers Association, 3 years
Public & Private School Teacher, 10 years (Choral & Drama)
Pageantry, Top Ten, National Competition of Ms. Senior America & Alabama State Director

Click here!>>>Pure CBD Oil Health Coach...living Pain Free!
Rita Young Allen, Keynote Speaking Professional / Concert Soloist / Published Author / Emcee
Master of Arts in Liberal Studies (Concentration in Counseling) from Jacksonville State University.
Master of Science in Management Leadership (Healthcare Administration) from Troy University.
Bachelor of Science in Sociology, Minor in Music, from Jacksonville State University.

Associate of Science in Music Education, Vocal Performance

Snead State College, Gadsden State College, and Wallace State College.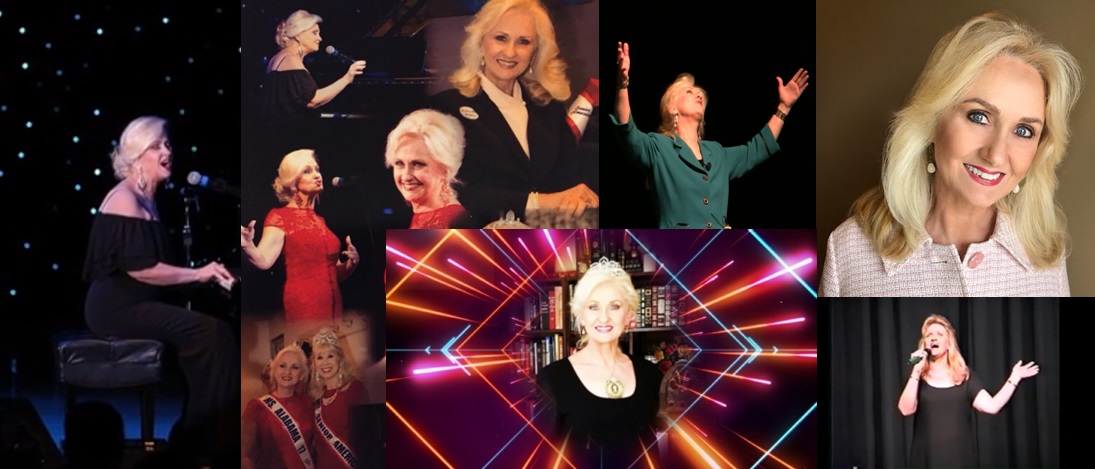 Copyright 2022 Rita Young Allen, Rya Associates, All Rights Reserved. Information from this site may be reprinted or quoted by members of the media, provided a specific credit be given to Rita Young Allen.