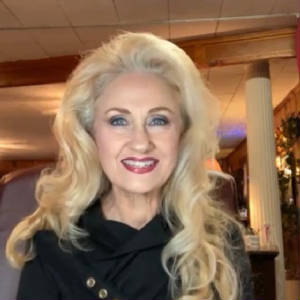 With grace and glory, Rita's presense and voice filled the room. As chills of an amazing experience raced through me, I knew I was witnessing a master at work. It is her giving spirit and her gift of music that reaches all generations. The National Speakers Association was honored to have her work featured in the Opening of our 2010 Convention.
Jolene Brown, Colleague at NSA
Whether you are looking for a speaker for your next Motivational Seminar, Christian Conference, Convention, Fund Raiser event, or that special Women's Retreat, Rita will turn your gathering into a life-changing event. Rita's walk with Jesus is real, moving and dynamic. She will bring the wisdom of her journey to the place where vision is gained, hurts are healed, hope is restored and cleansing is experienced....like a gentle summer rain. Rita's passion is to spread abroad the love of a sweet Savior while teaching the deep lessons of understanding and endurance through the dry dark places. Her message will be customized to your theme, filled with joy, humor and scripture. There will be engaging audience participation, laughter and tears.

Click on the links below for Workshop descriptions. All of these workshops are from a Christian perspective and based in the Word of God. The Word says, "Faith without Works is dead," therefore, we must learn the actions of integrity and how to combine them with our faith for complete success.
Christian Keynotes
The Esther Goal.....Female Spiritual Passion
Esther was the epitome of Spiritual Passion well set. Spiritual Passion is far more than simply attending a church and doing what is expected of you. Spiritual Passion for women is research, digging, study and excavation that renders truth and the understanding of who we are as women, and why it is imperative that we live in the fullness that God created us to have. Esther is the perfect example...beautiful, kind, dedicated, powerful, anointed, loving and wise. The role of women in God's plan is far greater that most of us have been taught.
+How to be beautiful and powerful.
+How to understand the strength of humility.
+How to set a wise, strategic plan.
+How to seek out wise Council.
+How to get your prayers answered.
+How to understand the message in Proverbs 31
The Sheaf Dreamer.....The Passion of Spiritual Service
To understand and walk in true light and love is the essence of peace, the fulfillment of dreams and the path to authentic living. We have been lied to, but not always on purpose. We must change the way we look at things. Great teachers and thought leaders of this spiritual path are few and far between. Mediocre teachers are abundant. From the foundations of the world we were all meant to experience transcending love, walk in divine light and teach great things, but we have not been taught how. We have been taught the counterfeit that leads to life in the matrix, unchallenged. This counterfeit invades our dream world with fierce passion, leaving us with feelings of desperation and helplessness...revisiting us at will. We must learn how to remove our tormenting dreams, live our passion and fully realize why we are put on this Earth.
+How to interpret dreams based on the Word of God.
+How to remove tormenting dreams.
+How to fulfill the dreams that were placed in your spirit from the foundations of the world.
+How to develop Renewal Living on a daily basis.
+How to move into your place appointed in Spiritual Service.
I have known Rita for many years and I would like to recommend her as a wonderful leader, magnificent teacher, loyal and faithful worker and one of the most anointed women of God that I have ever had the pleasure of knowing. She is detail oriented and dedicated to any task set before her. She is always up for a challenge and will meet or exceed any expectations. Her encouraging spirit causes all those around her to want to be better. Dana Pannell, Career Specialist, Bevill State Community College.